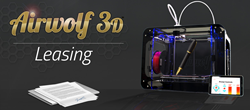 We are pleased to be able to offer these financial products that make 3D printing more accessible.
Costa Mesa, Calif. (PRWEB) March 26, 2015
Airwolf 3D today announces the immediate ability to lease 3D printers through strategic partnerships with two of the country's leading leasing corporations, TimePayment Corporation and Marlin Equipment Finance. Leasing makes the latest Airwolf 3D printers accessible to a broader audience by reducing the need for upfront cash payments and preserving their valuable capital.
Says Mark Mathews, President, "After a lot of due diligence to find the proper partner, two financing companies stood out, TimePayment Corporation and Marlin Equipment Finance. Both of these companies excel in providing affordable financing products, have rapid credit approvals, and are committed to industry leading customer service. We are thrilled to be partnered with two companies that share Airwolf 3D's vision for accelerating the proliferation of desktop 3D printing into mainstream commercial and personal-use markets."
Businesses and consumers begin the Airwolf 3D leasing process by visiting the company's website and completing the on-line application process. With a streamlined and integrated process, the entire approval and leasing process can be completed in a matter of hours. With terms ranging from 12 months to 60 months, lessees can pick the lease that best suits their needs. Leasing gives Airwolf 3D customers the ability to lease more sophisticated equipment or obtain multiple units not available to them had they opted to purchase their capital equipment instead.
"Our customers have been asking for a financing alternative, and we are pleased to be able to offer these financial products that make 3D printing more accessible," continues Mr. Mathews. "We expect both consumers and businesses will be very pleased with the addition of leasing to the Airwolf 3D offerings."
About TimePayment Corporation
TimePayment is an equipment leasing company that specializes in transactions with a selling price starting as low as $500, and up to $100,000. Through our network of over 10,000 independent Vendors, and utilizing our multi-level credit scoring model, we are able to approve a wide range of customers from large corporations to small businesses including new entities. Learn more about TimePayment at http://www.TimePayment.com
About Marlin Equipment Finance
Marlin is a nationwide provider of commercial equipment financing focused on small and mid-size businesses. Since 1997, more than 300,000 businesses have used Marlin's services. Customers include equipment dealers, manufacturers, distributors and small business establishments.
About Airwolf 3D
Airwolf 3D is committed to manufacturing high-performance consumables, accessories and 3D printers that are fast, affordable, durable and easy to use. All 3D printers are made in America, manufactured in the company's 12,000 sq. ft. facility in Costa Mesa, Calif. Currently, Airwolf 3D printers can be found in engineering firms, government agencies and schools worldwide. For more information, visit http://www.airwolf3d.com, telephone (949) 478-2933 or email info(at)airwolf3d(dot)com.