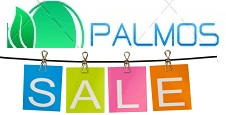 We're very excited about the Mother's Day season and that there has been a huge number of recent coupon codes and discounts available for our site's users to really take advantage of.
(PRWEB) March 23, 2015
While Mother's Day shopping generally comes from the heart, experts agree there's no shame in needing a bit of advice of what direction to look in for shopping ideas, big or small. No one may understand this truth better than discount shopping/coupon site Palmos, specialists in finding the best deals anywhere online. The site has recently shared their thoughts on top picks for presents this Mother's Day, with an emphasis on keeping prices tags as low as possible.
"We're very excited about the Mother's Day season and that there have been a huge number of coupon codes and discounts available for our site's users to really take advantage of," commented a spokesperson from Palmos.com. "We know, for some people, thinking of a great Mother's Day gift can be a challenge, so we've come up with some ideas and we're very happy to have the chance to share them with our visitors and elsewhere. The whole goal of our website is to help provide a superior shopping experience. From providing discounts to shopping ideas, it's our passion."
According to Palmos, some popular ideas for Mother's Day 2015 include
Premium Makeup Items. Often available with coupons codes and discounts on Palmos.com, many mothers appreciate high quality makeup items and accessories on Mother's Day. They boost a woman's confidence and help her look her best, making them great gifts that resonate in more ways than one.
Candles and Other Bed and Bath Products. What mother doesn't love scented candles or refreshing bath items? During this season, many stores offer generous discounts and special packages in these categories. Online shops hope to draw in customers for one of their most important shopping seasons, and the prices are a total win for gift buyers.
Sunglasses. Mother's day often coincides with great weather in most parts of America: A perfect time to give an amazing pair of sunglasses as a gift. With many top brands and styles to choose from, according to Palmos.com, there's very likely a good choice of sunglasses for nearly anyone's mom for Mother's Day.
Perfume. For those who know the fragrances their mothers appreciate most, perfume is a good, traditional, Mother's Day gift. Available at many different stores, some of which post discount codes on Palmos often, perfume can be a great gift—even for buyers with budget concerns.
In addition to these top 5 Mother's Day Gift choices, Palmos also endorses custom jewelry, gift certificates to favorite shopping spots, wine accessories, exercise and fitness equipment, and special family photographs as good choices to round out their top 10. Many other ideas can easily be found browsing the company's discount website to see what current specials are available, where the best places to shop are, and other winning ideas for Mother's Day and beyond. In Europe, other discount websites, such as Codereductionfrance, will be active during the mother's day period in France to offer deals to faithful users and newcomers alike. Codicesconto will definitely add value for Italian shoppers during the shopping season, as well.
Moreover, Palmos is happy to report that its discount/coupon sites have received very favorable feedback from visitors who are happy to find out about savings and shopping opportunities, including Freedeliverydeal.
Emily T., from Boston, recently said, "I do much of my shopping online, so I'm always on the look out for discounts and sales. Palmos.com has become my favorite site to find the latest discount codes. It's pretty rare when I'm shopping that I can't find something that will save me money on Palmos. With Mother's Day coming soon, I'll be planning out my gift buying for my mom and mother in law around what discount codes are available. There's no reason not to. I give the site five stars and a full recommendation!"
For more information, be sure to visit http://www.palmos.com.