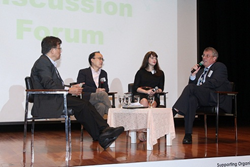 (PRWEB) March 22, 2015
With the theme "Intimate Apparel – Cradle to Cradle," the symposium held this year brought together local and overseas lingerie experts to share their insights and experiences. This symposium discussed the latest product trends and developments in the global lingerie market. It also sharpened the industry's competitive advantage on future product lifecycle management.
The symposium was officially kicked off by Prof. John Xin, Chair Professor and Head of ITC, the Honourable Felix Chung, Legislative Member (Textiles and Garment Sector), the 5th Legislative Council of HKSAR, and Professor Andrew Sia, Honorary Chairman of HKIAIA and Adjunct Professor of ITC, PolyU.
Distinguished speakers shared their ideas and experience on the new development in sustainability of the global intimate apparel industry. Mr. Hans Buehr, Executive Director of HKIAIA, delivered a talk on "ACFM – Activity based Carbon Footprint Model"; Ms. Cristina Kountiou, Professor of Fashion and Fashion Marketing Management of Savannah College of Art and Design Hong Kong, talked about "Thinking Out of the Box for Sustainable Fashion Design"; and Mr. Kenneth Lo, Chairman of Crystal Group, spoke on "Sustainability Journey – The Culture Cultivation at Crystal." Professor Philip Yeung, Executive Director of Clothing Industry Training Authority, served as the moderator of the Discussion Forum.
Established with strong industrial support in 2005, the Ace Style Institute of Intimate Apparel of ITC is the first lingerie institute in the Asia Pacific. Over the years, the Institute's research has reaped fruitful results and gained international reputation. Graduates of the BA (Hons) programme in Intimate Apparel are keenly sought by the industry. Starting from the 2008/09 academic year, the programme has been converted to a government-funded articulation programme. This milestone not only signifies the quality of the programme, but also charts a new course in the study of lingerie at tertiary level.
Detailed information of the Symposium is available at: http://www.itc.polyu.edu.hk/asiia/symposium