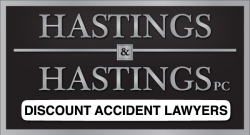 Phoenix, AZ (PRWEB) March 20, 2015
Hastings and Hastings, an Arizona law firm that focuses on personal injury legal matters announces record demand for 18-wheeler accident injury legal representation request in 2015. The firm addresses all aspects of personal injury law and has helped clients with everything from automobile accidents to motorcycle accident and bicycle accidents as well as injuries resulting from pedestrian related accidents and slip and fall accidents. Those with minor injuries, catastrophic injuries, life-threatening injuries and injuries that result in permanent disability have all turned to Hastings and Hastings over the years for dedicated and focused legal representation in order to achieve a favorable recovery. The firm offers remarkable discount fees enabling clients to enjoy more of a recovery when a recovery is indeed successful.
Most importantly, Hastings and Hastings saves clients money by ensuring that a no fee promise is always in place. This simply means that if a recovery is not achieved, that the client at no time is required to pay any attorney's fees. In addition, all costs associated with any recovery efforts are automatically waived if there is no recovery. It is this level of commitment to saving clients money that has allowed the firm to enjoy continued growth over the years. With 11 total offices in the greater Phoenix metropolitan area, Hastings and Hastings is a firm that continues to grow and expand to meet the demand of clients who have been injured because of the negligence or malfeasance of another individual or company.
Hastings and Hastings is a reliable and dependable source for experienced and knowledgeable personal injury legal representation in Arizona. The company has stated on more than one occasion that it has earned its reputation one client at a time and understands that a reputation is never simply given. As a trusted and respected name throughout the community, within the legal field and among clients, Hastings and Hastings is a law firm that strives to deliver excellence from all angles. The firm has saved clients many millions of dollars in just the last seven years alone because of its dedication to discounted fees and its no fee promise guarantee. With so much to offer, it easy to see why so many clients turn to this reliable name in personal injury legal representation.
The firm has well over three decades of established experience in the legal arena throughout the state of Arizona. Dedicated to quality personal injury and auto accident related legal representation in Arizona, the firm has multiple offices featuring experienced and knowledgeable personal injury lawyers that work diligently to help clients achieve the best possible outcome. While a recovery is never guaranteed in any recovery effort, Hastings and Hastings makes every attempt to ensure the highest probability of a successful recovery. From working exhaustively in negotiating with insurance companies to taking a recovery effort through the entire trial process, Hastings and Hastings is a firm that strives to exceed expectations.
Hastings and Hastings is a leading provider of discount personal injury legal services located in and serving the greater Phoenix Metropolitan area. This respected legal firm specializes in assisting individuals that have been the victim of serious injuries that have resulted from accidents that were not fault of their own. Hastings and Hastings is a trusted group of attorneys that deliver personalized service and guidance for injury victims throughout Phoenix and all across the state of Arizona. Hastings and Hastings is known throughout legal circles as a dedicated team of professionals and a law firm that has been representing accident victims throughout Arizona for decades. Hastings and Hastings has consistently exceeded clients' expectations with regard to representing a wide array of accident related injury victims at times when it matters the most and always doing so with discount attorney's fees.