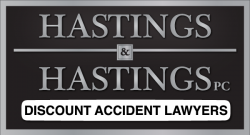 Phoenix, AZ (PRWEB) March 21, 2015
Hastings and Hastings, a personal injury law firm in Arizona that offers discount fees announces record word-of-mouth referrals throughout many of its 11 Valley office locations. The firm has strategically located law offices throughout the region intended to provide clients with greater ease of access for trusted and professional legal representation in Arizona. In addition, Hastings and Hastings representatives have stated on multiple occasions that the primary objective of the firm is to make professional personal injury legal services easy, convenient and affordable. Free home consultations and hospital consultations are always made available by the firm.
Equally worth considering is the fact that Hastings and Hastings ensures that any free consultations whether in a law office or a home or hospital setting are always free and always conducted by a licensed professional attorney. While other firms choose to incorporate paralegals or salesman into the free consultation process, Hastings and Hastings delivers professional service in this regard. With in excess of 150 years of combined cumulative legal experience in the personal injury arena, Hastings and Hastings has helped countless accident victims recover losses to help offset medical expenses and lost earnings. The firm handles an array of accident events that result in serious, minor and catastrophic injuries.
For example, automobile accidents, bicycle accidents, truck accidents, dog bite related accidents, slip and fall type accidents and a host of other situations that all result in serious injuries are routinely handled by the professionals of this trusted Phoenix personal injury law firm. Hastings and Hastings has also stated that it understands the stress and concerns of accident victims when it comes to hiring an experienced law firm. Considered by many to be one of the most important decisions and actions that can possibly be made, hiring a personal injury law firm is a decision that must be made carefully and with a considerable amount of thought.
Hastings and Hastings consistently exceeds the expectations of clients when it comes to negotiating with insurance companies and even taking a recovery effort to trial. Whatever the case may be, one thing is certain and that is that this is a law firm in Arizona that provides comprehensive, complete and dedicated personal injury legal representation. By providing substantially discounted attorneys fees, the firm enables clients to enjoy a greater portion of a recovery. This recent announcement with regard to the firm's record word-of-mouth referrals throughout many of its 11 Valley law office location is further confirmation and clear proof that Hastings and Hastings is a firm that has an established presence in the community.
Hastings and Hastings is a leading provider of discount personal injury legal services located in and serving the greater Phoenix Metropolitan area. This respected legal firm specializes in assisting individuals that have been the victim of serious injuries that have resulted from accidents that were not fault of their own. Hastings and Hastings is a trusted group of attorneys that deliver personalized service and guidance for injury victims throughout Phoenix and all across the state of Arizona. Hastings and Hastings is known throughout legal circles as a dedicated team of professionals and a law firm that has been representing accident victims throughout Arizona for decades. Hastings and Hastings has consistently exceeds client's expectations with regard to representing a wide array of accident related injury victims at times when it matters the most and always doing so with discount attorney's Fees.