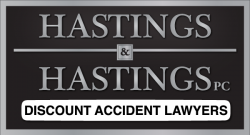 Phoenix, AZ (PRWEB) March 23, 2015
Hastings and Hastings, a Phoenix, Arizona, personal injury law firm that takes advantage of the latest in Internet technology, announces new positive reviews via Google+ with regard to the firm's dedicated personal injury legal representation. The firm provides clients and prospective clients with an innovative and easy to navigate website helping to ensure that those who have been injured due to the negligence or malfeasance of another individual have the greatest opportunity possible to gain access to experienced and focused legal representation in Arizona. As such, the firm has seen an increase in Google+ positive reviews with regard to the services offered by the firm.
Equally impressive is that the firm's website makes it easy and convenient for online visitors to access legal representation in the fastest way possible. With a simple and easy to use contact form, online visitors can expect a timely return call from Hastings and Hastings with regard to any personal injury situation or event. In many instances, those who have been injured due to no fault of their own find it challenging to gain access to reliable and dependable personal injury representation. Hastings and Hastings takes the pressure and stress out of the entire process of hiring an attorney. The firm's website is informative, easy to use and easy to understand. This grants prospective clients the ability to secure experienced attorney services without hassle or confusion.
Another important aspect of the Hastings and Hastings difference is that the firm always offers the opportunity for clients to have an attorney visit in the hospital or at home. Those who experience serious and life-threatening injuries often cannot travel freely. Because of serious or catastrophic injuries, travel is simply impossible and that is why it is a major benefit to clients if an attorney can visit in person. Best of all, initial consultations are free and there are never any fees due unless a recovery is successfully achieved. This provides a level of peace of mind that would otherwise not be possible for injury victims.
Hastings and Hastings has decades of experience in the industry and offers discount fees that are beyond compare. Unlike other firms, Hastings and Hastings never changes fees once they have been established at the outset of any recovery effort. This simply means that whether a case is settled via negotiations with an insurance company or requires a full trial, fees always remain the same. It is transparency and honesty as well as upfront pricing that has allowed the firm to continue to grow over the years. Boasting 11 offices throughout the Valley, Hastings and Hastings is a firm that has allowed its reputation and word-of-mouth referrals to speak volumes. Hastings and Hastings is proud to report this latest achievement.
Hastings and Hastings is a leading provider of discount personal injury legal services located in and serving the greater Phoenix metropolitan area. This respected legal firm specializes in assisting individuals that have been the victim of serious injuries that have resulted from accidents that were not fault of their own. Hastings and Hastings is a trusted group of attorneys that deliver personalized service and guidance for injury victims throughout Phoenix and all across the state of Arizona. Hastings and Hastings is known throughout legal circles as a dedicated team of professionals and a law firm that has been representing accident victims throughout Arizona for decades. Hastings and Hastings has consistently exceeded clients' expectations with regard to representing a wide array of accident related injury victims at times when it mattered the most and always doing so with discount attorney's fees.