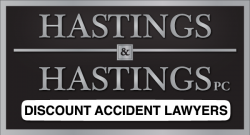 Phoenix, AZ (PRWEB) March 24, 2015
Hastings and Hastings, one of the region's most trusted and respected names in personal injury legal representation, reports record referrals at its Sun City law office location in Phoenix. The firm has been serving the greater Phoenix metropolitan area for well over 30 dedicated years and has on staff a team of knowledgeable, experienced and focused lawyers who handle all aspects of personal injury related matters. Those who have received minor to catastrophic injuries because of someone else's poor judgment or negligence frequently turn to Hastings and Hastings for professional personal injury lawyer related services. The firm has 11 law offices that are conveniently situated throughout the region.
From East Mesa to Apache Junction and south Phoenix, as well as Tempe and other key locations throughout the Valley, Hastings and Hastings has been serving the residents of the area with dignified and trusted law services for a long time. When it comes to attorney's fees, the firm offers an impressive no fee promise. This long-standing promise makes it clear to clients that if there is an unsuccessful attempt at achieving a favorable recovery that clients will simply pay no lawyer related fees. Taking it a step further, the firm also guarantees that in this particular situation that all fees and costs associated with establishing and pursuing a recovery will be waived.
This provides a level of peace of mind for the client that is simply beyond compare. When injuries and lost wages are impacting an individual's life, it is nice to know that there will be no further burden in terms of legal costs, expenses and fees. Hastings and Hastings takes a client's personal injury situation on a contingency fee basis. This type of fee structure ensures that injury victims involved in an accident that was not of their fault will not have to endure additional costs and expenses. Only when a recovery effort is successfully resolved will the client pay the required fees. Another important aspect of the Hastings and Hastings difference is that the firm will never increase attorney's fees contrary to the fees originally quoted.
Hastings and Hastings maintains the same discount fees regardless of the circumstances or situations involved with any negotiations or a trial. Featuring a team of experienced and motivated personal injury attorneys located throughout most key locations of the Greater Phoenix Area, Hastings and Hastings is a law firm that has a proven track record of more than 30 years. This recent announcement with regard to record referrals at its Sun City law office location in Phoenix is additional proof and evidence that Hastings and Hastings is a law firm that stands behind its promises when it comes to delivering discount attorney's fees without discounting service.
Hastings and Hastings is a leading provider of discount personal injury legal services located in and serving the greater Phoenix metropolitan area. This respected legal firm specializes in assisting individuals that have been the victim of serious injuries that have resulted from accidents that were not fault of their own. Hastings and Hastings is a trusted group of attorneys that deliver personalized service and guidance for injury victims throughout Phoenix and all across the state of Arizona. Hastings and Hastings is known throughout legal circles as a dedicated team of professionals and a law firm that has been representing accident victims throughout Arizona for decades. Hastings and Hastings has consistently exceeded clients' expectations with regard to representing a wide array of accident related injury victims at times when it mattered the most and always doing so with discount attorney's fees.