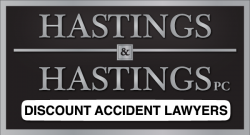 Phoenix, AZ (PRWEB) March 25, 2015
Hastings and Hastings, a leader in legal representation throughout the greater Phoenix area announces record client referrals for its Queen Creek law office location. With personal injuries on the rise throughout the greater Phoenix metropolitan area and the surrounding communities, there has been an increased demand for professional legal representation regarding a wide range of accidents and resulting injuries. From automobile accidents to truck accidents and bicycle accidents as well as motorcycle accidents, Hastings and Hastings has helped countless individuals in the region over the last several decades. Most importantly, Hastings and Hastings offers discounted fees when it comes to legal representation.
With a stellar reputation throughout the community as well as among former and current clients, Hastings and Hastings is a law firm in Phoenix that has a proven track record year after year. With an established client base and an abundance of referrals the firm continues to expand with 11 legal offices now conveniently located across the valley. Those who have been injured through no fault of their own now have easy access to convenient offices in many key areas of the valley. In addition, Hastings and Hastings has stated on multiple occasions that the firm is always prepared and ready to meet with clients in a hospital or home setting as required. This is helpful for those whose injuries make it impossible to visit an office. It is this added level of customer service and unique dedication that has allowed the firm to continue to help injury victims across a wide range of accident related events.
Hastings and Hastings is particularly pleased with the number of referrals that it has experienced in the Queen Creek area. The firm continues to receive referrals at all office locations from former and existing clients. This best illustrates the attention to detail and personalized care that the firm offers to each and every injury and accident victim who chooses to work with Hastings and Hastings. Most importantly, the firm has stated on multiple occasions that it is always proud to handle each client's situation with respect and dignity. Working in an aggressive yet fair way with insurance companies helps to ensure the clients enjoy the greatest recovery possible.
In addition, when the firm goes to trial, each attorney works exhaustively to ensure that clients have the best opportunity possible to receive a fair and just recovery. This helps those who have been injured to better manage the losses associated with being unable to work and the cost of ongoing medical treatment and medical care. With discount fees, knowledgeable attorneys and dedicated representatives, this is a Phoenix firm that gets it right. This recent announcement with regard to record client referrals for its Queen Creek law office location is one more key indicator that Hastings and Hastings will continue to provide the most focused and committed legal representation possible for clients.
Hastings and Hastings is a leading provider of discount personal injury legal services located in and serving the greater Phoenix Metropolitan area. This respected legal firm specializes in assisting individuals that have been the victim of serious injuries that have resulted from accidents that were not fault of their own. Hastings and Hastings is a trusted group of attorneys that deliver personalized service and guidance for injury victims throughout Phoenix and all across the state of Arizona. Hastings and Hastings is known throughout legal circles as a dedicated team of professionals and a law firm that has been representing accident victims throughout Arizona for decades. Hastings and Hastings has consistently exceeds client's expectations with regard to representing a wide array of accident related injury victims at times when it matters the most and always doing so with discount attorney's Fees.