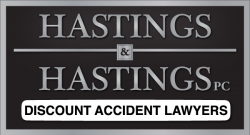 Phoenix, AZ (PRWEB) March 27, 2015
Hastings and Hastings, a discount accident lawyer in the greater Phoenix metropolitan area reports its Casa Grande law office experiencing record requests for personal injury consultations. The firm handles a host of simple to extremely complex recovery efforts when it comes to helping injury victims gain compensation for losses due to accidents that were no fault of their own. From medical malpractice cases to trucker related accidents and workplace type accidents, Hastings and Hastings handles virtually any type of personal injury situation in a professional, detailed, fair and aggressive way. By aggressively negotiating with insurance companies or going to trial, the firm works diligently to achieve the best results possible for clients.
Hastings and Hastings has earned an outstanding reputation throughout the community, among peers and with prior and present clients. The firm has stated on multiple occasions that a great reputation must be earned and is never just given. Having worked in a focused and dedicated way for more than three decades, the firm has developed an impressive reputation that has gained the attention of industry onlookers and the community at large year after year. With an impressive number of referrals, the firm has proven time and again the personalized care and attention to client's needs when it comes to personal injury and car accident events is second to none. Each recovery effort is handled with respect and dignity so that clients enjoy a greater level of peace of mind.
Saving clients money with genuine discount lawyer fees is one of the primary objectives of this Phoenix Arizona personal injury attorney. Word-of-mouth referrals for more than 30 years with regard to personal injury and auto accident legal services has made Hastings and Hastings a likely choice among those injured due to the negligence of another individual or company. The firm has an expanding presence throughout the Valley with 11 current law offices that are strategically located so that clients enjoy convenience and ease of access from virtually any place in the greater Phoenix metropolitan area.
Known as a qualified team of experienced personal injury attorneys, Hastings and Hastings is a firm that stands behind its promises when it comes to discounting fees while never discounting legal services. One of the most important aspects of working with a trusted law firm after having been injured in an accident is that clients can direct their energy and attention to caring for family and advancing the healing process. In a wide array of accidents, Hastings and Hastings is a law firm that always strives to deliver fair, focused and aggressive legal services. This recent announcement with regard to the firm's Casa Grande Law office experiencing record requests for free personal injury consultations is further proof that Hastings and Hastings is a trusted and respected Phoenix Arizona personal injury law group.
Hastings and Hastings is a leading provider of discount personal injury legal services located in and serving the greater Phoenix Metropolitan area. This respected legal firm specializes in assisting individuals that have been the victim of serious injuries that have resulted from accidents that were not fault of their own. Hastings and Hastings is a trusted group of attorneys that deliver personalized service and guidance for injury victims throughout Phoenix and all across the state of Arizona. Hastings and Hastings is known throughout legal circles as a dedicated team of professionals and a law firm that has been representing accident victims throughout Arizona for decades. Hastings and Hastings has consistently exceeds client's expectations with regard to representing a wide array of accident related injury victims at times when it matters the most and always doing so with discount attorney's Fees.