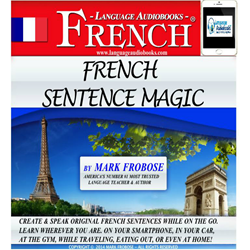 CHAMPAIGN, ILLINOIS (PRWEB) March 25, 2015
Language expert Mark Frobose announced today that his language programs are now available on Audible.com at a significant discount.
"All programs are instantly downloadable to a smartphone and teach languages everywhere," he explains.
How can these discounts be accessed?
"Simply go to Audible.com and type in the keyword "Frobose" in the Search box. All of the discounted programs in Spanish, French, Italian, Portuguese, German, Mandarin Chinese and Russian will instantly appear.
What do these programs cost?
"With these great discounts, a person can get a high-quality audio language program for under $19.00 and for a little as $9.00 and have it instantly downloaded to a smartphone," explains Frobose, bestselling author of Power French Accelerated.
Mark Frobose created the entire foreign language program line for publishing giant Macmillan Audio of New York and has worked as their consultant for years.
His new company, LanguageAudiobooks.com currently publishes the nation's most popular language programs which are now sold at a discount on Audible.com.
Discounted programs may be accessed by going to Audible.com and typing the discount code FROBOSE into the searchbox.