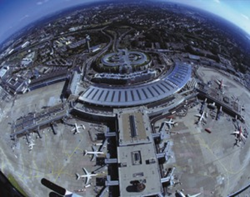 This summer's schedule offering more than 60 airlines serving 190 destinations in 50 countries all over the globe.
Düsseldorf, Germany (PRWEB) March 20, 2015
"The desire to travel is growing. DUS, along with our major airlines partners, can offer our passengers an extensive network of routes with attractive destinations all over the world," says the chairman of the airport's management board Dr. Ludger Dohm. "We substantially expanded, especially long-haul flights." Travelers who want to travel across the world from DUS, NRW's largest airport, are spoiled for choice, with this summer's schedule offering more than 60 airlines serving 190 destinations in 50 countries all over the globe.
A new record: This summer, passengers can choose from a total of more than 120 weekly long-haul flights to 26 intercontinental destinations. A new high-caliber long-haul addition is Cathay Pacific Airways, the world's best airline according to Skytrax. Cathay offers four weekly non-stop flights between NRW and Chinese metropolis Hong Kong.
Emirates Airlines will switch to larger aircraft – Airbus A380, the world's largest passenger aircraft -- on July 1st for its existing daily scheduled noon-time flights from DUS to Dubai in an effort to increase the seat capacity on this high-volume route even further.
Etihad Airlines will also use the extremely efficient and quiet Boing "Dreamliner" 787-9 permanently for its service between the Rhine River and Abu Dhabi from early June on.
There's more:
Delta Airlines will use a larger Boeing 767-400ER for flights to its hub Atlanta from April through September after using a Boing 767-300ER for this route.
Air China, too, will increase its connections between Düsseldorf and Beijing by switching to an Airbus A330-300. Air Berlin is doubling the number of flights from DUS to New York (JFK) and is also increasing the number of flights to Los Angeles (LAX). Moreover, Lufthansa is maintaining its commitment to long-haul service from Düsseldorf with two daily flights to the US: Newark (EWR) and Chicago O'Hare (ORD). American Airlines will start daily flights to Chicago (ORD) again this summer.
Major airline partners also continue to align themselves with DUS for service to tourism destinations, for example, Germanwings, which is significantly increasing flight options in this segment by adding new destinations, including Faro (Portugal), Rijeka (Croatia) and Jerez de la Frontera (Spain). Condor and Tuifly are increasing the number of flights by adding the destinations Mykonos and Skiathons (Greece), and Boa Vista (Brazil) and Chania (Greece), respectively. Germania's new flights include connections to Paphos (Greece) and Almeria (Spain). SunExpress, a joint venture by Lufthansa and Turkish Airlines, is adding Luxor (Egypt) to its list of destinations.
Attractive new city connections featured in the summer schedule include the seaports Marseille (France) and Porto (Portugal), both serviced by Germanwings, Seville (Spain) by SunExpress Germany, and Santiago de Compostela by Vueling. That's how close the world is now.
For business travel, NRW's largest airport is expanding its already outstanding roster of UK flights. British airline bmi regional is new at DUS and will fly to English destination Bristol this summer, while Flybe is offering new flights to Cardiff. Bulgaria Air will begin a joint service with Air Berlin to Bulgaria's capital Sofia.
Find current information online about Düsseldorf Airport and its summer schedule at http://www.dus.com.
In League with New York, London, Paris and More
Düsseldorf Airport is connected nonstop with the many airlines serving seven airports in the United States: Atlanta, Chicago O'Hare, Fort Myers, Los Angeles, Miami and two airports in New York – JFK and Newark. Passengers who are continuing their journey beyond Düsseldorf Airport find a modern and convenient airport providing easy transfer to destinations in Germany – such as Berlin, Munich, Stuttgart, Hamburg, Dresden, Leipzig, Nuremberg or Frankfurt – as well as all major European destinations – from Stockholm in the North to Rome in the South, from Lisbon in the West to Moscow in the East. Throughout the year, more than 60 airlines offer more than 190 destinations in almost 50 countries. Düsseldorf Airport's attractive layout offers short passageways and a compact architecture. Just one terminal building connecting to three gates guarantees a smooth and easy path to and from the aircraft, with a connecting time of as little as 35 minutes.
The airport is at the center of the Rhine Ruhr area, a bustling network of 53 connected cities and 18 million residents within 40 miles. It is the EU's third largest market in volume and spending and equal to major metropolitan regions like New York, London and Paris. 500,000 companies are located in the area, including 5,000 offices of foreign corporations, the majority from the Netherlands, Japan and the USA. Many major international industry players, including Fujifilm Europe, Nokia Siemens, Novell, Ericsson, Deloitte & Touche, McKinsey, and Toshiba, are headquartered in Düsseldorf, which is a first-rate location for high-tech concerns. International presence and fast accessibility – guaranteed by DUS being one of Germany's major hubs – make the location highly attractive.
Düsseldorf and North Rhine-Westphalia, ranked 17 in GDP among the world's major industrial centers, are also home to some of the most significant exhibitions and trade shows in the world. Of the 50 annual events at Düsseldorf's Exhibition Center, 23 lead their industry worldwide, for example, printing technology ("drupa"), plastics and rubber ("K"), medicine ("MEDICA" and "REHACARE INTERNATIONAL"), leisure time ("boot") or packaging ("interpack"). For more information on Düsseldorf Airport, visit http://www.dus.com.
###
Düsseldorf Tourism & Marketing GmbH is the visitors and convention bureau of the city of Düsseldorf. Its services include tourism and city marketing, conference and meeting marketing, hotel reservation services, fairs and convention services, city event ticket sales and advance ticket reservations. For more information, visit http://www.visitduesseldorf.de.