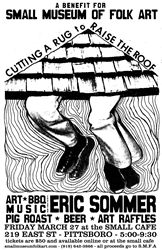 "We have received a tremendous amount of local support..." Lisa Piper, Owner of Smalls Cafe
Pittsboro, NC (PRWEB) March 24, 2015
Bigger isn't necessarily better... except when you're the Small Museum of Folk Art.
Small Museum of Folk Art will hold its first benefit fundraiser at the Small B&B Café in Pittsboro on Friday, March 27th. The event seeks to raise funds for the museum's building campaign and will feature art from the museum's collection, music from blues rocker Eric Sommer, a barbeque and an art raffle with pieces worth $5,000.
A large turnout is expected in support for this extremely popular Cafe. The Cafe is a favorite for local business leaders and the Sunday Brunch is usually standing room only and spills out onto the surrounding gardens on many Sundays.
"We are going to cut a rug to raise the roof!" said Dave Clark, co-owner of the Small Café with partner Lisa Piper. "This benefit will be the ticket in town on Friday night. We are hoping that a lot of people come to listen to good music, eat, drink, and donate to the new folk art museum."
Eric Sommer is the special musical guest for the evening. Mr. Sommer is a remarkable singer, writer and guitar player, and his credits are a who's-who of the folk-indie scene. Eric takes a break from his tour schedule to be in Pittsboro for the event, since his Mom and Dad are frequent patrons of The Small Cafe.
With open tunings, slide guitar, lap-slap tone guitar and a remarkably aggressive fingering style approach...
"Watching Eric Sommer will make you jump out of your seat and holler for joy! There are very few players who have maintained this authentic American style of guitar and Eric Sommer is one of the very best." Studdie Burns, Melody Maker, UK 2014
The Small Museum of Folk Art, set to open in historic downtown Pittsboro later this year, will include pieces from such notable local artists as Clyde Jones and whirligig creator Vollis Simpson as well as notable outsider artists Butch Anthony and Lonnie Holley. The collection was originally formed from Jim Massey of Moncure, NC who gifted over 400 folk art pieces to the museum's organizers.
Designs for the museum focus on eco-friendly features with the majority of the building constructed from reclaimed and salvaged materials.
"We have received a tremendous amount of local support from individual donors, in-kind contributions, and funds, and we're looking to raise more through this fun benefit," said Piper. "This is the first of a series of fundraisers for the new museum planned for this year."
Tickets are $50 and are available online at http://www.smallmuseumfolkart.com or at the Small B&B Café, at 219 East Street in Pittsboro. All proceeds of the event will go to the Small Museum Project, a non-profit organization created to fund and manage the museum.
The Small Museum of Folk Art is the vision of Small B&B Café owners Dave Clark and Lisa Piper, who created the Small Museum Project. The Small Museum of Folk Art is a 501c3 organization whose mission is to educate, inform, inspire and interact with the community and visitors through art.