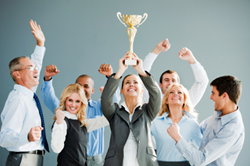 "Determining whether you have a future Mount Everest climber on your hands or an underachiever is a matter of asking the right interview questions."
Montreal, Canada (PRWEB) March 31, 2015
What do Mark Cuban, J.K. Rowling, Jim Carrey, and Oprah have in common? They knew that they were destined for greatness and were driven to make something of themselves, no matter how much hard work it required or how many obstacles obstructed their path. Ambitious people not only challenge the status quo, but as research from PsychTests' Ambition Test reveals, job candidates with strong aspirations are more likely to become the top performers in a company.
It is a standard (i.e. clichéd) question that most interviewers ask:
"Where do you see yourself five years from now?"
And most job candidates will respond with a perfect yet equally clichéd answer, like:
"In a position, here, with more responsibility, because I enjoy learning and love challenges."
Ask a useless question and you will get a useless answer, but inquiring about a person's aspirations has merit. In fact, research conducted by PsychTests indicates that the degree to which an employee is ambitious has a significant impact on his or her performance
When they compared below average, average, and top performers, PsychTests study reveals that:

Top performers are much more driven (score of 70 on a scale from 0 to 100; 63 for average performers, 56 for below average).
They are more likely to have several professional aspirations (score of 76 vs. 65 vs. 61).
They are more likely to have several personal aspirations (score of 67 vs. 63 vs. 58).
They have a stronger sense of self-efficacy (score of 71 vs. 62 vs. 52).
In addition,

94% of top performers believe that they can achieve whatever they set their mind to (compared to 75% for average performers and 70% for below average performers).
89% set high work standards for themselves (compared to 73% and 64%).
88% consistently look for ways to improve their performance or complete tasks more efficiently (compared to 71% and 61%).
87% are "very motivated" to improve themselves and become a better person (compared to 77% and 58%).
73% strive to achieve top honors at work, like Employee of the Month (compared to 46% and 31%).
70% make it a point to regularly learn new skills, aside from those they learn in school and during job training (compared to 66% and 53%).
58% have a long-term career plan (compared to 47% and 46%).
Only 21% of top performers have turned down an opportunity because they didn't believe they could live up to the challenge it offered (compared to 31% and 49%).
Only 13% would be content with a "Satisfactory" job performance rating (compared to 20% and 29%).
"While it may seem that these top performers can walk on water, one particularly enlightening statistic from our study reveals that these ambitious go-getters are not immune to self-doubt," explains Dr. Jerabek, president of PsychTests. "In fact, 35% of top performers indicated that they get discouraged when faced with obstacles to their goals. However, what differentiates them from average and below average performers is their persistence and refusal to allow these obstacles to turn into permanent roadblocks. Determining whether you have a future Mount Everest climber on your hands or an underachiever is a matter of asking the right interview questions – and avoiding the standard ones that most job candidates can answer on cue."
In order to dig for information on a job candidate's level of ambition, researchers at PsychTests suggest asking the following interview questions:
"Describe a goal you achieved that no one else believed you could. Why didn't they believe in you, and what made you want to keep trying?"
"What does failure mean to you? How would you define success?"
"In the past two years, how have you upgraded your work skills and abilities? Tell me about any classes, extra reading, or training you have taken part in."
"Would you prefer to work with a group of people who are less accomplished than you, or a group of people who are more successful than you? Why?"
"What is the most disappointing feedback you received in a performance review? What changes did you make as a result?"
"What type of initiative have you taken in previous jobs? Have you ever approached a manager with a new idea or task that you wanted to work on?"
Want to assess your level of ambition? Go to http://testyourself.psychtests.com/testid/3294
Professional users of this assessment (therapists, life coaches and counselors) can request a free demo of the Ambition Test or any other assessments from ARCH Profile's extensive battery: http://hrtests.archprofile.com/testdrive_gen_1
To learn more about psychological testing, download this free eBook: http://hrtests.archprofile.com/personality-tests-in-hr
About PsychTests.com
PsychTests.com is a subsidiary of PsychTests AIM Inc. PsychTests.com is a site that creates an interactive venue for self-exploration with a healthy dose of fun. The site offers a full range of professional-quality, scientifically validated psychological assessments that empower people to grow and reach their real potential through insightful feedback and detailed, custom-tailored analysis.
PsychTests AIM Inc. originally appeared on the internet scene in 1996. Since its inception, it has become a pre-eminent provider of psychological assessment products and services to human resource personnel, therapists, academics, researchers and a host of other professionals around the world. PsychTests AIM Inc. staff is comprised of a dedicated team of psychologists, test developers, researchers, statisticians, writers, and artificial intelligence experts (see ARCHProfile.com). The company's research division, Plumeus Inc., is supported in part by Research and Development Tax Credit awarded by Industry Canada.