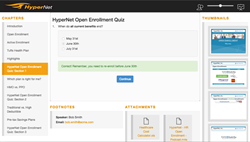 With the Learning Pack, KnowledgeVision users can now embed knowledge checks right into the flow of their presentations, score them, provide feedback on answers, and pass scores and completion records into learning management systems.
Boston, Massachusetts (PRWEB) March 20, 2015
KnowledgeVision Systems, the leader in online multimedia presentation technology and tools, has added integrated quiz, assessment, and certification features to its rapid learning content creation tools. The KnowledgeVision Learning Pack is immediately available to the company's Professional, Corporate, and Enterprise Edition customers.
"Clients all over the world have discovered that KnowledgeVision tools are the fastest and easiest way to create multimedia learning content," said KnowledgeVision CEO Michael Kolowich. "With the Learning Pack, KnowledgeVision users can now embed knowledge checks right into the flow of their online presentations, score them, provide feedback on correct and incorrect answers, and issue customized completion certificates. Even better, they can pass those scores and completion records into their learning management systems so they can be recorded into company learning records."
Best practices show that periodic "knowledge checks" in the flow of an online presentation help increase engagement, focus, and comprehension. KnowledgeVision is offering, as part of its Learning Pack, a new "Ask" app that allows for the creation of quizzes, assessments, and knowledge checks. Collections of multiple-choice questions can be divided into sections and distributed throughout a presentation, or displayed as a single assessment at or near the end of a presentation, lecture, or course.
KnowledgeVision's Ask app is the newest member of a suite of apps that have been developed to extend the functionality of the KnowledgeVision online presentation platform.
In addition to the Ask app, the KnowledgeVision Learning Pack includes:
--the KV SCORM connector, which allows KnowledgeVision content to be snapped into most learning management systems and pass viewing and assessment data into those learning systems;
--a completion certificate generator, which can create customized (with name, date, course name, and other information) PDF certificates upon successful completion of a course and assessment;
--downloadable reports on every learning session, with complete viewing statistics, engagement records, and assessment data, including scores, pass/fail, and answers to specific questions.
About KnowledgeVision: the New Face of Business Video
KnowledgeVision Systems is creating a new video medium for business, by reinventing the business presentation for an online, on-demand, video-enabled, mobile, anytime/anywhere world. A Massachusetts-based company backed by GrandBanks Capital and Rand Capital (NASDAQ: RAND), KnowledgeVision offers a Software-as-a-Service solution that makes it easy to create, share, and track online video presentations.