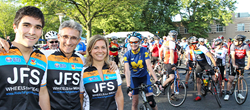 JFS delivers more than 28,000 nutritionally balanced Meals on Wheels a year in addition to providing many other vital services for Bergen and Hudson county residents who are struggling
Teaneck, N.J. (PRWEB) March 20, 2015
Jewish Family Service of Bergen and North Hudson (JFS) will hold its fifth annual Wheels for Meals – A Ride to Fight Hunger ride/walk event on Sunday, June 14, 2015 at the Jewish Home at Rockleigh, 10 Link Drive in Rockleigh, N.J. Riders, walkers, sponsors and donations are being sought to raise funds to support key JFS initiatives that fight hunger in Bergen County. Proceeds from the Wheels for Meals Ride to Fight Hunger will enable JFS, a non-profit organization in Teaneck, to continue its kosher Meals on Wheels program and food pantry that serve the homebound elderly and disabled individuals.
"The Wheels for Meals – A Ride to Fight Hunger is a critical part of our ability to serve our neighbors in need," said JFS Executive Director Susan Greenbaum. "Many people don't realize that JFS delivers more than 28,000 nutritionally balanced Meals on Wheels a year in addition to providing many other vital services for Bergen County residents who are struggling." Participation and fundraising have grown since the event's inception in 2010; last year, 400 people rode and walked and over $145,000 was raised, nearly triple the amount of the first ride/walk. Event coordinators are expecting more than 500 riders this year to raise over $150,000.
Cyclists may register for courses ranging from 3 miles to 50 miles, depending on age and ability, and a 3-mile fun walk for all ages will be available. There is an early-bird discount for those who register by April 1; family teams also get a discount on their entry fee. Participants are well supported in their fundraising efforts with convenient email templates and easily customized participant pages.
Returning sponsors for the 2015 event are Pepsico, Sharp Electronics, Becton Dickinson, Gatorade, Optima, BJ's Wholesale Club, ShopRite Glass Gardens, Inc., Stop & Shop, Tenafly Bicycle Workshop, If You Care, the Jewish Standard and the Jewish Home at Rockleigh; new this year, to date, is Eastwick College. Corporations interested in sponsoring the event should contact Barbara Bender at barbara(dot)bender(at)yahoo(dot)com. Vendor opportunities are available at the registration area, where hundreds of riders, walkers and spectators congregate before and after the ride/walk. In addition, JFS is seeking volunteers to work prior to and at the event in a number of roles.
"There is still so much need in Bergen County so we encourage all participants to ask their associates, friends and family to support them in this important endeavor," said Greenbaum. "We are so grateful to those who choose to support our programs through this event in any way."
The event website, http://www.RidetoFightHunger.com has full details and instructions to donate on behalf of an individual rider, a team or directly to the event; information about sponsorships, volunteering and vendor opportunities; and individual or team registrations.
###
About Jewish Family Service
For over 60 years, the mission of Jewish Family Service has been to strengthen and preserve the well-being of individuals and families, and to help them effectively meet the challenges and changes through life. The non-profit organization fulfills its mission by providing mental health services, a range of senior care services (including kosher meals on wheels, friendly visitors, and Holocaust survivor support), support groups for various constituencies, emergency aid and much more. For more information visit http://www.jfsbergen.org.
About Wheels for Meals
Now in its fifth year, this ride/walk fundraiser was conceived by then 16-year-old David Feuerstein as a way to give back to the community. The event raises critical funds to fight hunger in Bergen County, with proceeds supporting the JFS Meals on Wheels program and its food pantry. The event draws riders, sponsors, vendors and spectators from throughout Bergen and neighboring Rockland County. Details and registration information are at http://www.RidetoFightHunger.com.