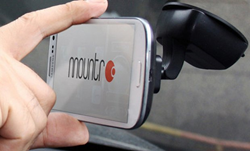 Mountr is - by far - my favorite car accessory!
(PRWEB) March 22, 2015
"Mountr" was featured on NewsWatch as part of its monthly Tech Report, which takes a look at the latest and coolest technology products and services. Andrew Tropeano, the host of NewsWatch and technology expert, conducted the app review and shared with viewers how this is the simplest way for drivers to cruise and charge their phones.
While driving, some people put their phones in phone holder, their lap, or in the passenger seat. These are the most efficient ways to travel with a phone, especially since most people use their phone as a GPS. The easiest way to mount a phone is with a magnetic mount, but people seem to run into complications if they need to charge their phone as well. Well, Mountr created a solution to get rid of this annoyance for drivers.
Mountr is a phone case and magnetic mount that charges drivers' phones while they drive. All a driver has to do is simply place their phone on the mount and the phone will stay there for the duration of their trip. They won't have to worry about the phone falling off, because the case and mount are built with top of the line magnets. The magnets are perfectly aligned, allowing drivers to place their phone in a portrait or landscape view.
The Mountr is extremely versatile for all drivers' needs. The Mountr can either mount onto a car's air vent, or it can mount onto a window with the suction cup feature. The device also comes in different colored cases so drivers aren't limited to one design. The Mountr is available for available for the iPhone 5, 5S, 6, and 6 Plus, the Samsung Galaxy S4 and S5, as well as the Note 3. Prices start for Mountr start at a competitive price of $59.90.
To learn more, visit http://www.mountr.com today.
About NewsWatch
NewsWatch is a weekly 30-minute consumer oriented television show that airs on the History Channel, FYI Network, and ION Network. NewsWatch regularly features top technology products and services, mobile applications for iOS, Android, and Windows devices, unique and beautiful travel destinations around the world, health and medical tips, and entertainment interviews on the show. NewsWatch airs on the History Channel at 6:00 – 6:30 AM ET/PT and on the FYI Network from 7:00 – 7:30 AM ET.
NewsWatch is located in the greater Washington, DC area and has been on air for over 25 years. For more information or to watch the most recent episode, visit http://newswatchtv.com/tech-report.html.