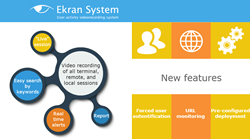 Budapest, Hungary (PRWEB) March 23, 2015
"We're making Ekran System enterprise-friendly," said Dennis Turpitka, CEO of Cloud Labs. "Two-step authentication, pre-configured deployment, and URL capturing in addition to indexed video streams make our system ready for large enterprises, insurance and banking industry, and the financial sector."
The newly added secondary authentication option collects additional authentication information on computers running the Windows Server OS (including Windows Server 2003, 2008, and 2012). In this mode, remote clients sharing a single Windows login will be required to supply their individual login credentials before they are allowed to use the system.
Version 3.1 offers simplified enterprise-wide deployment via a set of pre-configurable initialization files. The ability to automate deployment is a welcome addition for larger enterprises with multiple computers and large networks.
The new release adds the ability to extract, save, and index URLs of Web resources opened in the current session. Configurable alert options are available to notify administrators if resources belonging to a stop-list are being visited. Collected URLs are added to the index accompanying captured video stream, enabling administrators to easily jump to spots in video streams where a Web site of interest was opened.
Background
Monitoring local and remote employees and terminal users has become a de-facto industry standard. Organizations use computer surveillance to combat employee misconduct, prevent and investigate theft of intellectual property, and mitigate security threats imposed by uncontrolled use of the corporate network.
With many companies delegating parts of their workload onto independent third party contractors, these issues become even more important. While working with remote vendors who aren't company's own employees, a number of security issues arise.
Cloud Labs introduced an enterprise-grade, software-based solution to help companies mitigate risks connected with inviting third-party contractors into the corporate network. Ekran System records user activities by capturing and indexing video records of what's happening in all concurrent terminal, remote, and local sessions. Managed via a server-based Web interface, Ekran helps IT management to easily monitor, review, and audit user activities of all third-party contractors and company's own employees. Requiring no dedicated hardware and imposing no changes to employees' workplaces, Ekran System is one of the most cost-effective solutions in its market segment.
About Ekran System
Ekran System is designed to combat employee misconduct, misuse of internal data, issues of fraud, and theft of intellectual property. Being a software-based solution, Ekran System is aimed at replacing traditional log-based computer monitoring systems. Instead of intercepting multiple sources of data and collecting numerous logs, Ekran captures a smooth video stream to record all activities performed by local and remote employees, independent contractors, and third-party vendors on corporate computers. Running on a server or workstation, Ekran Client records a video stream of all user activities, and records all accompanying metadata such as the name of the active application, window title, keystrokes being typed, or Web pages being visited.
The video streams are indexed with metadata to make search and navigation easy. Administrators can search the recordings by entering user or computer names or metadata keywords, as well as by browsing through by date and time. This enables specialists to quickly locate key episodes to investigate incidents and analyze activities of employees, administrators, or third-party service providers.
About Cloud Labs
Cloud Labs is a digital security company that uses its broad experience in IT security and computer technology to create inspiring, problem-solving yet compact solutions for the digital security market. Cloud Labs team is comprised of IT specialists, software researchers, security system designers, kernel and system driver developers as well as certified quality assurance experts with expertise in IT security.