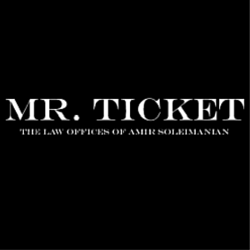 The car rally is a great chance to get together with the community and talk about being careful on the road
Encino, CA (PRWEB) March 20, 2015
Mr. Ticket is excited to announce that the firm will be sponsoring Union Bank during an open house and also speaking at a car rally this week. The open house will take place Friday, March 20th. The event starts at 10am and will run until 3pm. The car rally will take place the following day, Saturday, March 21st and will run all day beginning at 8am.
At the open house, Mr. Ticket will have a booth set up in the bank so that passersby can get free advice, goodies, and promotional items. There will be other booths at the open house -- an insurance company, a dentist's office, and a real estate broker. Mr. Ticket has been sponsoring the bank for the last two years.
"I believe that the community will trust us even more when a bank endorses our firm," explained Amir Soleimanian, Owner and Founder of Mr. Ticket. "It's an opportunity for us to get involved and keep our company name in the forefront of people's minds just in case they ever need a traffic ticket attorney."
The car rally is the Targa Trophy Event, which is hosted by HRE Performance Wheels. There will be about 150 exotic cars at the rally, from makers such as Ferrari, Lamborghini, and Porsche. Mr. Ticket sponsors this event as well and always gives a speech about safe driving practices and responding appropriately in accident situations. The firm has been sponsoring this event for five years.
"The car rally is a great chance to get together with the community and talk about being careful on the road," said Soleimanian. "You don't have to drive fast, you should take tickets seriously, and always be responsible when you plan on drinking."
About Mr. Ticket
Mr. Ticket is a law firm that focuses on handling traffic law cases, including reckless driving, DUI, hit and run, and more. The Mr. Ticket law firm knows that the repercussions for any of these cases can be costly and long-lasting. To learn more, visit 4mrticket.com