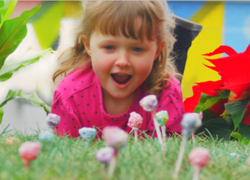 "This DIY Spring Garden for Kids will help bring a little whimsy and fun into your home this spring, thanks to Dum Dums Lollipops." Savingsaidsimply.com
BRYAN, Ohio (PRWEB) March 20, 2015
Spring's arrival today signals the unofficial start of outdoor activities across the U.S. The National Oceanic and Atmospheric Administration (NOAA) reports that only 11.8% of the continental U.S. is covered by snow, so families will be able to begin their Dum Dums Lollipop Gardens in earnest.
"With the end of snow cover, we can now get outside to clean up our gardens and get everything ready for spring," said Evan Brock, director of marketing of Spangler Candy Company, the makers of Dum Dum lollipops. "It's the perfect time to get your Dum Dums Garden planted."
Planting a Dum Dums Garden is simple and magical. First, find a sunny, grassy, open spot to plant your jelly beans. Leave overnight and allow the magic of spring (and parents) to do the rest. In the morning, children will find that Dum Dums Lollipops of all kinds have sprouted from the ground where the jelly beans were planted.
Spangler Candy Company is celebrating Dum Dums Gardens all spring by showcasing many of the creative and unique Dum Dums Gardens being planted around the country. The website TheMagicOfSpring.com will feature photos and videos of gardens, many from bloggers around the country. "I'm so excited to share this amazing and fun new activity," said Christie, who blogs as Saving Said Simply.com. "This DIY Spring Garden for Kids will help bring a little whimsy and fun into your home this spring, thanks to Dum Dums Lollipops."
The website also includes a video featuring the Dum Dum Drum Man (and his role in the Dum Dums Garden), as well as directions for building a garden and lollipop gardening "tips."
"What begins as a fun activity can become a special moment – and lasting tradition – in families," said Brock. "It's a magical way to welcome spring and an opportunity to build a family tradition. In addition, it can help introduce kids to the beauty of gardening."
About Spangler Candy Co. Spangler Candy Company is one of the largest lollipop producers in the world, producing an average of 12 million Dum Dums lollipops a day, 2.3 billion annually. Other products include Saf-T-Pops®, Spangler® Candy Canes and Spangler Circus Peanuts. The company was established in 1906 in Bryan, Ohio. Visit spanglercandy.com to learn more.