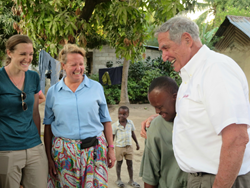 This event gives us an opportunity to raise financial support to impact and save more mother and child lives in Haiti.
Houston, Texas (PRWEB) March 23, 2015
Gene Stallings, Texas A&M University and longtime Alabama University football coach, is scheduled to speak at a fundraising event for LiveBeyond on April 2 at Memorial Church of Christ in Houston, Texas. Father of LiveBeyond co-founder, Laurie Vanderpool, Coach Stallings has become a passionate advocate for LiveBeyond's work to transform an impoverished region, Thomazeau, outside of the capital of Haiti, Port-au-Prince.
More than 350 people are expected to gather to support LiveBeyond's work. Guests will have the opportunity to hear Coach Stallings' stories about LiveBeyond and his experience working with in Haiti with his daughter and her husband and LiveBeyond Founder and CEO, David Vanderpool, M.D.
"My father-in-law, Coach Stallings, has played a huge role in raising funds for LiveBeyond's medical clinic and hospital in Thomazeau where we treat more than 12,000 locals each year," said Dr. Vanderpool. "His passion to transform the lives of this oppressed community has ignited countless people's desire to partner with us."
One hundred percent of the proceeds from this event will go toward LiveBeyond's Maternal Health program where more than 200 pregnant women in Thomazeau receive prenatal and postnatal health care. LiveBeyond plans to build an OB/GYN facility to provide women in this region with a safe place to deliver babies surrounded by a medical staff with life-saving skills.
"In your wildest imagination, you cannot imagine how poor the people are in Haiti," added Coach Stallings. "This event gives us an opportunity to raise financial support to impact and save more mother and child lives in Haiti."
President and CEO of the 12th Man Foundation, Skip Wagner, will emcee the event.
Dinner will begin at 6:30 p.m., followed by the main event. Tickets are available online at http://www.livebeyond.org or by calling the LiveBeyond office, 615.460.8296.
The event will be hosted at Memorial Church of Christ, 900 Echo Lane in Houston.
About LiveBeyond
LiveBeyond is a faith-based, 501(C)(3) organization bringing medical and maternal healthcare, clean water, orphanage support, education and agricultural development in Thomazeau, Haiti. David Vanderpool, M.D. is the founder and CEO, and resides in Thomazeau, Haiti to oversee daily operations of LiveBeyond.
###