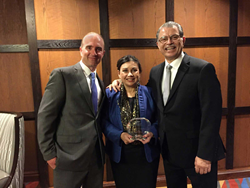 "This award is the result of a company wide effort and our tireless pursuit of excellence in service. It was an honor to be nominated and we are very proud of the award" - VP Josh Sisco
Bellevue, Washignton (PRWEB) March 22, 2015
ELYON International is proud to announce their selection by the Northwest Mountain Minority Supplier Development Council (http://www.nwmtnmsdc.org) as the "2014 Supplier of the Year." Nominated in the small to midsized business category by the Boeing Company, ELYON was chosen from a pool of 13 other nominees.
The criteria for this award included business growth, community involvement, customer testimonials and dedication to the Minority Business Enterprise (MBE) community.
Vice President Josh Sisco had this to say about the award, "This award is the result of a company wide effort and our tireless pursuit of excellence in service. It was an honor to be nominated and we are very proud of the award." Mr. Sisco continued to say, "As a certified MBE of the National Minority Supplier Development Council (NMSDC), we have corporate goals and a culture of support for the council's corporate members and MBEs."
During a large invitational dinner held in Bellevue, Washington, ELYON President and Owner Carmen Nazario graciously accepted the award in front of hundreds of attendees.
ELYON International is a premier management consulting firm with a diverse list of both government and commercial customers. ELYON International provides comprehensive management consulting, information technology, geospatial and professional staffing support services that enable our customers to meet their goals and exceed performance objectives. Ingrained in the ELYON culture is a commitment to excellence that resonates throughout our valued employees and clients. We are committed to nourishing longstanding and fulfilling careers for our employees that builds on a strong life-work balance, opportunity for advancement and continuous improvement through training opportunities. ELYON has emerged as a trusted name for government and commercial sector customers. ELYON International's President is the recipient of various leadership awards including the Oregon Minority Small Business Person of the Year award, presented by the SBA's Portland, Oregon District and the Portland Oregon's Metropolitan Hispanic Chamber, "BRAVO Award."