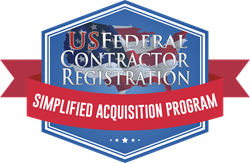 Washington D.C. (PRWEB) March 23, 2015
AGM Container Controls Inc (Tucson, AZ) has been a Verified Vendor with US Federal Contractor Registration since November 2013, and has been enrolled in the Simplified Acquisition Program since June 2014. US Federal Contractor Registration conducted the required SAM registration process for AGM Container Controls Inc in order to become an official United States government contractor. In the nine months actively enrolled in the Simplified Acquisition Program, AGM Container Controls Inc won 61 government contracts totaling $801,394. Businesses like AGM Container Controls Inc in Arizona won over $10 billion dollars in fiscal 2014.
Acquisition Specialist Jonathan Maness of US Federal Contractor Registration assisted AGM Container Controls Inc with the enrollment process into the Simplified Acquisition Program. Johnathan Maness conducted a qualification process with AGM Container Controls Inc that would be used to find out their federal competition rate, discover available solicitations and locate purchasing officers that have a history of buying goods and services in that industry.
Below is a copy of one of the government contracts awarded to AGM Container Controls Inc while enrolled in the Simplified Acquisition Program. The following solicitation was researched and documented from the Federal Procurement Data System (FPDS):
Vendor Name: AGM CONTAINER CONTROLS INC.
Contracting Agency: DEFENSE LOGISTICS AGENCY
Date Signed: October 17, 2014
Action Obligation: $54,827.64
Contracting Office: DLA AVIATION
NAICS (Code): OTHER ELECTRONIC COMPONENT MANUFACTURING ( 334419 )
PSC (Code): GUIDED MISSILE COMPONENTS ( 1420 )
Vendor City: TUCSON
Vendor DUNS: 052696721
Vendor State: AZ
Vendor ZIP: 857161705
About AGM Container Controls Inc
Since 1970, AGM Container Controls has been a leader in the design and fabrication of products that control and monitor moisture (dry gas purge systems, desiccators, and humidity indicators), pressure and vacuum changes (breather valves) and shock and vibration (tie downs, shock overload indicators). These products are used for a variety of applications in defense and aerospace, electronic, electro-optical, industrial and commercial markets to protect and extend the life of critical equipment.
AGM now offers the same superior quality and precision that has been a hallmark of their OEM products through their expanded CNC Machining Services, Rapid Prototype Production, Inspection Services, Custom Engineering and Contract Manufacturing.
AGM is 9001:2008/AS9100C Registered in order to ensure the utmost quality in their products and services. Located in Tucson, AZ, AGM has over 35,000 square feet of manufacturing space. AGM facilities have the complete approval of the Army, Navy, Air Force, AEC and NASA. AGM is backed by four decades of leadership in the manufacture and distribution of container hardware and has developed many products for a range of industries and applications, such as military, electronics and industrial packaging, storage and transportation. Their industry leadership has been recognized through the many awards we've received from the Department of Defense and major aerospace companies, including a Best Value Gold Medal from the Defense Logistics Agency (DLA) for 13 consecutive years.
AGM Container Controls Inc Federal Profile Information
DUNS: 052696721
CAGE: 08992
Active in SAM; Registration valid until 04/29/2016
Small Business
North American Industry Classification System (NAICS) codes
314999 - All Other Miscellaneous Textile Product Mills
327992 - Ground or Treated Mineral and Earth Manufacturing
332911 - Industrial Valve Manufacturing
332999 - All Other Miscellaneous Fabricated Metal Product Manufacturing
334513 - Instruments and Related Products Manufacturing for Measuring, Displaying, and Controlling Industrial Process Variables
336413 - Other Aircraft Parts and Auxiliary Equipment Manufacturing
336419 - Other Guided Missile and Space Vehicle Parts and Auxiliary Equipment Manufacturing
Prime vendors and Procurement Officers interested in contacting AGM Container Controls Inc for contracting opportunities can contact Contract Manager, Joanne Quirion at (520) 881-2130 or by email atjquirion@agmcontainer.com. Businesses can also call Jonathan Maness of US Federal Contractor Registration at 1(877) 252-2700 Ext 739 to begin the enrollment process in the Simplified Acquisition Program.