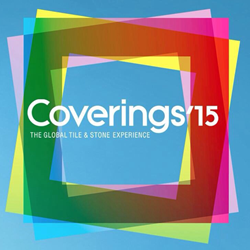 ...Over 1,000 businesses will be displaying the latest products their trades have to offer.
Toledo, OH (PRWEB) March 22, 2015
The expansive Orange County Convention Center is the site of this year's Coverings '15 show in beautiful Orlando, Florida; and it is shaping up to be another fantastic event. From April 14-17, the latest products, trends, and techniques in the stone and tile industries will be showcased to the more than 23,000 contractors, retailers, installers, and others who are expected to attend. These guests will have the opportunity to visit booths of over 1,000 businesses who will be displaying the latest products their trades have to offer.
The MR Direct location which will be featuring its extensive line of stone vessel sinks. Dramatic, durable and distinctive best describe these basins carved from pure granite, marble, onyx and sandstone; and considered to be one of the most exquisite uses of these raw stone materials. Additional sink models and faucets will also be on-hand for review; as well as the amazing Home Reality app which allows consumers to view any MR Direct sink, with any popular countertop, in any real location, on their iPad or Android -- virtually.
Consistent with previous Coverings tradeshows, the additional incentives to attend this year's show are numerous and educational.
Select speakers will present their overall perspectives of the stone and tile industry, the trending uses of various coverings, and details of some of the latest applications of stone in everything from practical home projects to eccentric commercial endeavors.
Demonstrations have always drawn the attention of show-goers and this year should be no exception. All day, every day, experts will be showing visitors the proper way to install various types of materials, how to use new and standard tools, and how to do the prep work for various types of projects. A further highlight will be the Installation Deign Showcase where premier contractors and designers will partner to create four individual installations on-site, which represent creative uses of stone and tile with expert installation techniques for various spaces.
The MR Direct team will be exhibiting in location #4491, and will be available to explain the finer details of their products and to answer any visitor questions. The continuing MR Direct tour can be followed on any of our social media sites or by visiting http://www.MRDirectint.com.