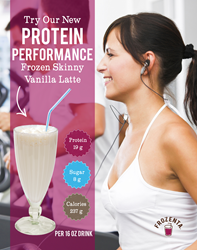 After months of testing, we settled on a formula that tastes great and has enough added protein to turn a frozen coffee or tea drink into a nutritious meal replacement - Ashley Reagan, Frozenta Growth Leader
Columbus, Ohio (PRWEB) March 23, 2015
Independent coffee shops have a delicious new way to cater to fitness-conscious coffee drinkers: new Polar Powder Protein Performance frozen drink mix from Frozenta®. This low-sugar drink mix packs a nutritious protein punch into blended frozen coffee, tea and hot chocolate drinks.
Frozenta created Protein Performance Polar Powder to give coffee shops a way to provide high-protein frozen drinks with fewer calories and grams of carbohydrates in each drink. Two scoops add 19 grams of whey protein, with just 8 grams of sugar and 237 calories, to the typical 16-ounce frozen drink.
"Our customers have been asking for a protein powder drink mix that actually tastes good," said Ashley Reagan, Frozenta Growth Leader "After months of testing, we settled on a formula that tastes great and has enough added protein to turn a frozen coffee or tea drink into a nutritious meal replacement."
The powder can be blended with sauces and syrups to create a wide variety of tasty, protein-enriched drinks, including this recipe for a Skinny Vanilla Freeze.
Skinny Vanilla Freeze:
2 Red Scoops Polar Powder Protein Performance
3 oz. Cold Skim Milk
5 oz. Cold Brew Espresso
1.5 oz. Sugar Free Vanilla Syrup
Ice
Blend and serve.
Sold in cases of 12, 2-pound bags, Frozenta Polar Powder Protein Performance is the most profitable choice for adding healthy whey protein to frozen espresso drinks and frozen chai and Matcha drinks. Priced at just $12.50 per pound, with no case minimum and free shipping, Polar Powder Protein Performance costs only $1.59 per 16-ounce drink.
About Frozenta
Launched in 2014, Frozenta is a Columbus, Ohio-based distributor of versatile mixes used to make frozen espresso, tea and hot chocolate drinks. The company's all-in-one Polar Powder and Hot Chocolate Freeze base mixes offer coffee shops, cafés and restaurants the flexibility to create unique blended drink combinations from a single powder. To learn more, visit http://www.frozenta.com.