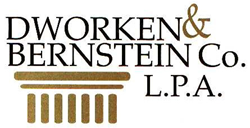 Cleveland, Ohio (PRWEB) March 24, 2015
Howard Rabb, Administrative Partner at the NE Ohio law firm of Dworken & Bernstein Co., L.P.A. is pleased to announce that attorneys Anna Parise, Jonathan Stender and Kristen Kraus have all made partner at the firm.
Mrs. Parise specializes in Family Law and most recently received a Certificate of Congressional Recognition and Achievement for her work with The Legal Aid Society of Cleveland and Family Law Day in Lake County, Ohio.
Mr. Stender and Mrs. Kraus both special in Employment Law and Worker's Compensation.
Mrs. Kraus has extensive experience in handling civil jury trials. She has litigated cases in nearly every county in Northeast Ohio.
Mr. Stender has written and spoken on a wide range of employment and workers' compensation issues.
Dworken & Bernstein is the largest law firm in Lake, Geauga and Ashtabula Counties, Ohio with additional offices in downtown Cleveland. Serving the community for over 50 years, Dworken & Bernstein and its 27 lawyers and staff of 36 offers a full range of legal services for businesses, individuals, and families.