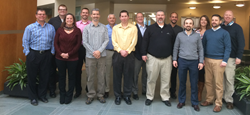 As an early adopter in the U.S., this success demonstrates commitment and capability to serve the growing interest in asset management in the United States.
DENVER (PRWEB) April 01, 2015
It was announced today that 13 Woolpert employees have earned Institute of Asset Management (IAM) Certification. IAM is the international professional body for the acquisition, operation and care of physical assets – especially critical infrastructure.
The Woolpert employees certified span multiple markets and disciplines, focusing on asset management services within the aviation, facility, utility (electric, water, wastewater, stormwater), parks and recreation, transportation and energy industries. Woolpert's certified asset management consultants include Eric Risner, Dave Feuer, Jen Kouns, Jeff Pesler, Steve Schwabe, Jonas Svoboda, Eric Koontz, Kirk McClurkin, Ed Singer, Jamie Munroe, Jared Livingston, David Raffenberg and Qwyla Foutch.
"These certifications further solidify Woolpert's position as an industry leader in asset management," said McClurkin, vice president of geospatial and technology. "We are developing the tools necessary to help our clients maximize the value of their assets for the minimum costs."
Woolpert is a national architecture, engineering and geospatial firm, with 25 offices nationwide. Woolpert is headquartered in Dayton, Ohio.
IAM, based in the United Kingdom, is a not-for-profit member organization dedicated to furthering the science and practice of asset management. Woolpert, a corporate member of IAM, opened a U.S. testing site for IAM certification in September at its Denver office.
Ben Ross, IAM's chief operating officer, said the organization is delighted that 13 Woolpert employees achieved this certification.
"As an early adopter in the U.S., this success demonstrates commitment and capability to serve the growing interest in asset management in the United States," Ross said. "Asset management is a cross-disciplinary profession and offers value to organizations that implement it well – in any sector. The IAM Certificate is targeted at those with some experience in asset management roles and is tangible evidence of employee capability."
The 13 Woolpert employees certified plan to move on to become endorsed assessors and trainers, furthering the strength not only of the Woolpert team but of the IAM process domestically.
"Over the years, we've led discussions regarding all kinds of best practices — from the APWA (American Public Works Association) to AWWA (American Water Works Association) to the international standards of New Zealand (NAMS) – all over the map," McClurkin said. "We will continue to leverage these bodies of work while our team is standardized on the IAM framework, and delivering enhanced services to match that standard."
About Woolpert
Woolpert, ranked by Engineering News-Record as a top national design firm, provides professional architecture, engineering and geospatial services to clients in public and private sectors. Founded in 1911, and with more than 600 professionals in 25 offices located throughout the U.S. Woolpert's IAM-certified asset management professionals use best practices and proven asset/performance management tools to help maximize assets' life cycles through sustainable infrastructure strategies and investments. Woolpert's team also implements tools to automate and streamline the permitting process, reducing the time, resources and complications associated with disparate permitting systems. For more information on Woolpert, visit Woolpert.com.