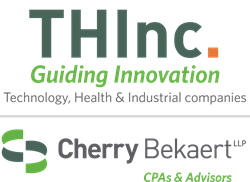 (PRWEB) March 26, 2015
The National Center for the Middle Market ("NCMM") and top-ranked CPA firm Cherry Bekaert LLP are pleased to announce a strategic alliance to provide ongoing insights into innovation and growth strategies for Middle Market companies.
"The National Center for the Middle Market is the premier resource on the U.S. middle market economy," said Kip Plowman, Managing Partner of Strategic Markets at Cherry Bekaert. "As one of the leading CPA firms in the nation serving fast-growth mid-size organizations, we have constant interaction with middle market company CEOs and CFOs. One way we support these executives is by providing access to world-class resources like NCMM's Middle Market Indicator data. We are also co-creating research with NCMM to understand and influence Middle Market company growth. Overall, the NCMM alliance enables us to keep a pulse on the key business trends driving innovation, capital investments and expansion and to directly benefit our clients and the business community. This type of proprietary thought leadership will be a key facet of THInc, our new specialty practice that serves the innovative needs of clients in the Technology, Health and Industrial sectors."
With revenues between $10 million and $1 billon, the nearly 200,000 companies that comprise the U.S. middle market encompass 44.5 million jobs, account for one-third of total private employment, and generate more than $10 trillion in combined revenues annually. "As a firm known for its innovative CPA and advisory practices, Cherry Bekaert advances our ability to look at the middle market in new and dynamic ways," said Tom Stewart, Executive Director for the NCMM.
"Our collaboration with Cherry Bekaert promises to bring new perspective on the issues impacting the middle market ," Stewart added. "It is critical that this vital but understudied segment of the economy gains exposure. Middle market companies led the U.S. out of the last recession. Companies in Atlantic Coast states, from D.C. and Virginia to Georgia and Florida, over-indexed on growth (20% higher than the national average) during the fourth quarter of 2014. Cherry Bekaert provides us with direct, intimate access to middle market leaders in these high-growth areas."
The two organizations conducted their first co-sponsored event in Atlanta, Georgia, in February 2015 for a standing-room-only crowd of middle market CEOs and CFOs. Facilitated by Tom Stewart of NCMM, in addition to and with a panel of renowned experts and business leaders, the group reviewed and discussed Q4, 2015 results from NCMM's Middle Market Indicator—a measure of progress, plans and perspectives on growth collected from more than 1,000 senior executives from U.S. middle market companies.
About the National Center for the Middle Market
The National Center for the Middle Market provides knowledge, leadership and innovative research on the U.S. Middle Market. The NCMM exists for a single purpose, to serve as the foremost expert and leading resource on the U.S. middle market economy. Housed at The Ohio State University's Fisher College of Business, the NCMM is the first center of its kind in the nation. The Center enthusiastically serves middle market firms, students, academic researchers, policy makers, the media, and other key stakeholders with interests in the health and well-being of the middle market. The Center is fully committed to funding and distributing the most credible open-sourced research, dynamically creating new knowledge, providing programs that drive value for middle market companies, and offering a well-informed outlook on the health and future of the middle market via the Middle Market Indicator. | middlemarketcenter.org
About Cherry Bekaert LLP
Ranked among the largest accounting firms in the country, Cherry Bekaert specializes in offering solutions that impact their middle market clients' ability to innovate, grow and succeed.
For more than 65 years, private equity-backed businesses, global corporations, middle market companies, emerging firms and their executives have relied on Cherry Bekaert to guide them forward as their growth advisor. | cbh.com
About THInc
Growth and innovation go hand-in-hand. To achieve and sustain middle market growth, companies within the Technology, Health and Industrial sectors require advisors and accountants who fully comprehend how innovation creates disruption and change that can lead to business risk, uncertainty and new opportunities.
If you are innovating, allow THInc to guide your company in the right direction. THInc is a specialty practice of dedicated professionals serving innovative clients in the Technology, Health and Industrial sectors. | cbh.com/THInc