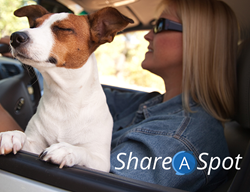 Perfect for people who rent apartments or are new to town....
Chicago, IL (PRWEB) March 22, 2015
Many Chicago suburb residents are perpetually on the lookout for a reliable parking spot, whereas many homeowners always have an empty driveway. A new Chicago-based company, ShareASpot, aims to solve just these problems, by letting individuals who own an unused parking space rent it out to those who need it.
In recent years, most Chicago suburbs have developed strict ordinances regarding overnight street parking. The ShareASpot founders saw this as an opportunity to match people who have an extra parking spot at their home with people who are looking for a parking spot nearby.
"We are from the community, and have dealt with the headaches of parking in a suburb with overnight parking restrictions," says co-founder Devin Bates.
ShareASpot was formed in 2014, when the founders had to help family members find reliable parking in the suburbs of Chicago. Initially, this was done by passing out flyers and knocking on doors, but it soon became clear that the Internet would be the perfect way to connect those in need of parking with those that have extra spots.
Owners will be able to list their unused parking spots for free on the ShareASpot website, whether they choose to rent on a regular basis, or just for certain events, holidays, or seasons. The owners never have to deal directly with the renters, instead collecting their payments directly through the ShareASpot website.
The company seeks to set itself apart from other parking services by focusing on rentals from individuals rather than commercial spaces. Pricing is flexible and is determined by the spot owner. Generally, that number falls between $40 to $100 per month in most suburbs. The features of each parking spot (such as whether it is covered or uncovered, and whether it offers 24 hour access) also impact the price.
"Our service is perfect for people who rent apartments or are new to town and find that available parking is limited. Whether they need a spot overnight or one close to the train, ShareASpot can help them find reliable parking," says Bates. "Additionally, we're finding that people with available space are very excited to be able to earn additional income from their unused parking spot."
Find out more about ShareASpot at: http://www.shareaspot.com