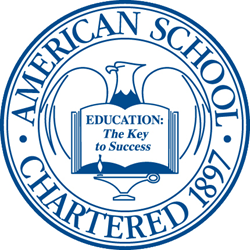 Lansing, IL (PRWEB) April 02, 2015
American School is pleased to be an exhibitor at the National Catholic Educational Association Convention, which will be held April 7-9 at the Orange County Convention Center/West Building, Halls 1 and 2, in Orlando. This is the second consecutive year American School has exhibited at the event, which is expected to draw thousands of Catholic educators from across the country.
"As our name implies, we are a national school serving all of the United States of America, so attending a national convention where we can showcase our accredited online and paper-based high school courses makes perfect sense," American School President Gary R. Masterton said.
Attendees are invited to stop by booth 342 on Tuesday, April 7, from 12 p.m. to 5:15 p.m.; Wednesday, April 8, from 8 a.m. to 4 p.m.; and Thursday, April 9, from 9 a.m. to 3 p.m. to learn more about American School and its course offerings. Recently American School added many online courses to its traditional paper-based curriculum and also offers students the opportunity to take online exams in many paper-based courses. American School also has partnered with Rosetta Stone to offer ten online world language courses, including Mandarin Chinese and English as a Second Language.
"Our Independent Study Program is perfect for students in brick-and-mortar high schools," Masterton said. "Students can take our courses for credit recovery or because of a scheduling conflict or because their school does not offer a course in a particular subject area. We are accredited, so when the student completes the course and has a zero balance on his or her account, we send a transcript to the student's school, and our credit goes right on the student's official transcript at his or her school."
Individual courses taken through American School's Independent Study Program typically cost between $150-$300 each and include access to the Online Student Center, where students can view grades, take online exams, and access other helpful infomration. Students, parents and school officials can feel comfortable taking courses through American School because it has been in existence since 1897 and is accredited by the Middle States Association of Colleges and Schools/Commissions on Elementary and Secondary Schools (MSA-CESS), Ai (Accreditation International) and NCPSA (the National Council for Private School Accreditation) and is recognized by the State of Illinois as a non-public high school.
For more information, call 866-260-7221 or visit http://www.americanschool.org.