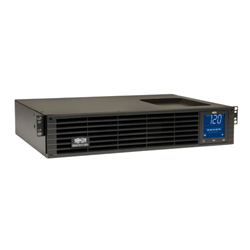 SmartPro SMC UPS systems provide high-end power protection at a great value
Chicago, IL (PRWEB) March 24, 2015
Tripp Lite, a world-leading manufacturer of power protection and connectivity solutions, has expanded its line of SmartPro® series UPS systems by adding four new SMC models with 1000VA to 1500VA capacity. These models advance the SmartPro line by offering network-grade power protection with pure sine wave output, making them ideal for basic network and professional workstation applications. Pure sine wave output guarantees compatibility with all equipment types, including those run by power factor corrected power supplies. Built-in USB and serial interfaces work with included PowerAlert® software to provide detailed status reporting of UPS and site electrical conditions, plus safe unattended shutdown of network, workstation or desktop applications during extended power failures.
Key Features:
-- Maintains user productivity, and prevents data loss and downtime associated with blackouts, brownouts and power line surges
-- Provides network-grade protection and pure sine wave output, ideal for basic network and professional workstation applications
-- Automatic voltage regulation (AVR) corrects brownouts and overvoltages without consuming battery power
-- Included PowerAlert software supports power monitoring and management
-- HID-compliant USB port enables integration with built-in power management and auto shutdown features of Windows® and Mac OS® X
"Our new SmartPro SMC UPS systems provide high-end power protection at a great value," said Rich Feldhaus, Tripp Lite Product Manager, "With network-grade pure sine wave output, AVR functionality and power management software in one package, they are the perfect solution for budget-minded users."
For more information on the new UPS Systems, visit:Tripp Lite SmartPro Pure Sine Wave UPS Systems.
About Tripp Lite
Outstanding product reliability and exceptional service have been Tripp Lite trademarks for over 90 years. Tripp Lite´s innovations include the world's first UPS system designed specifically for personal computers, and the world's most trusted premium surge suppressor—the Isobar®—with more than 19 million in use. Tripp Lite maintains the highest level of ready-to-ship inventory in the industry with more than 3,000 different products, including UPS systems, rack systems and cooling solutions, PDUs, PowerAlert software for enterprise-level system management and control, surge suppressors, KVM switches, cables and connectivity products, inverters, power strips and notebook accessories. Headquartered in Chicago, Illinois, Tripp Lite maintains a global presence with fully staffed offices worldwide. Additional information, including a list of Tripp Lite's sales offices and authorized reseller partners, can be found by visiting Tripp Lite's website: http://www.tripplite.com.