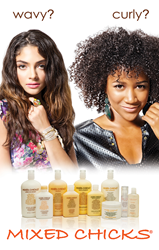 Los Angeles, CA (PRWEB) March 23, 2015
Mixed Chicks popular hair care line is now available at Fred Meyer stores in Alaska, Idaho, Washington and Oregon. The retail chain will carry the shampoo, leave-in conditioner and deep conditioner.
At Mixed Chicks, they've launched a revolution that celebrates the beauty and complexity of America's melting pot with every shampoo, rinse, repeat. Wendi Levy and Kim Etheredge are two "mixed chicks" who turned their frustrating haircare woes into an opportunity to create products that could handle the wily locks of bi-racial men and women everywhere. The result was a line of naturally beautifying solutions that transcend all hair types to provide the control, shine, and health they deserve.
Mixed Chicks was found in 2003 as the first beauty business to address the unique hair needs of the multi-ethnic community. Since then, they have expanded from a web-based business to being sold in over 4000 retail outlets across the nation, UK, Caribbean, and Europe, and are a celebrity favorite of such stars as Halle Berry, Jennifer Hudson, and many more.
For samples or additional information, please visit http://www.mixedchicks.com or contact chelsea(at)chicexecs(dot)com.
Contact:
ChicExecs PR
http://www.chicexecs.com
1487 Poinsettia Ave. Ste. 125
Vista, CA 92081
310.569.6586
ChicExecs PR is an "out of the box" PR company which represents over 70 clients. ChicExecs has created an innovative approach to PR dedicated to helping small-medium businesses receive media coverage. Our revolutionary automated system is changing the face of PR. To learn more about ChicExecs visit http://www.chicexecs.com.