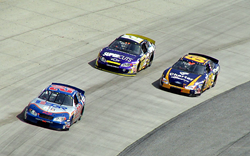 We are honored to be performing our patriotic American Flag skydive at such a thrilling event.
Fontana, CA (PRWEB) March 21, 2015
The Auto Club 400 is a NASCAR Sprint Cup Series stock car race held at the Auto Club Speedway in Fontana, California. Sunday, March 22nd, Kevin Harvick, Jimmie Johnson, Jeff Gordon, Dale Earnhardt Jr. and all of the stars of the NASCAR Sprint Cup Series will battle it out around the 2 mile track for the checkered flag in the Auto Club 400 without two-time defending race winner Kyle Busch, due to a broken leg and foot from a crash at Daytona. As part of the opening ceremony, Team Fastrax will be performing an amazing and patriotic aerial display with their 2,500 sq. ft. and 1,100 sq. ft. US Flags.
John Hart, owner of Start Skydiving, and member of Team Fastrax, said "We are honored to be performing our patriotic American Flag skydive at such a thrilling event. The energy and excitement of these races are like none other."
According to the Auto Club Speedway site, other pre-race activities include Metal Mulisha Freestyle Motocross, a performance by Warrant on the main stage, a performance by El Dasa and a Lucha Libre wrestling exhibition. It's sure to be an amazing day of fun and racing.
Team Fastrax™ is sponsored by BUBBA Burger®, the #1 branded frozen burger in the United States, and PEAK Antifreeze & Coolant whose parent company, Old World Industries, has been a leader in the development and distribution of high-quality automotive products for over four decades. The parachute demonstration team has a roster of more than twenty-nine active members, with a culmination of more than 300,000 skydives. Team Fastrax™ has performed exhibition skydives all over the world for audiences large and small as a patriotic display or as a product promotion.
For more information on the race, or to purchase tickets visit the Auto Club Speedway website.
For questions or for an interview, contact Gene Newsom with Team Fastrax™ at 513-422-5867.