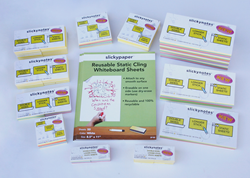 The New Generation of Sticky Notes: Glue Free, Double-Sided, Dry-Erasable
RAMONA, Calif (PRWEB) March 24, 2015
EcoStatic, Inc. has chosen crowdfunding website Indiegogo to finance production of Slickynotes, which look like the colorful and popular self-adhesive notes found on desks around the world but can be wiped clean and reused.
The company hopes to raise $10,000 to bring production in-house and lower the retail price for the notes, which are available for purchase online (http://www.ecostaticinc.com).
"This is the first real innovation in this market in 40 years," says CEO Nelson Pizarro, who founded EcoStatic with his children.
"Everyone loves Sticky notes, but if you're like me, you've felt that twinge of guilt tossing them in the trash after one use. Slickynotes are reusable and more versatile. The campaign will let us buy a specialized printer to put the color on the sheets ourselves, making them less expensive to make and cheaper to purchase. We want everyone to be able to afford to upgrade to Slickynotes, and we're committed to pricing our products in a way that makes them broadly accessible."
Slickynotes offer these benefits:

Color on one side, reusable dry erase material on the other.
Stick to any smooth, dry surface without the use of glue, including glass, wallpaper, drywall, windows and doors.
Electrostatic charge makes them easy to slide around and helps them stick for weeks.
100 percent recyclable.
Made in the USA.
Slickynotes come in several colors and sizes. The company also makes an 8.5" x 11" version (Slickypaper) for drawing or for use as a mini whiteboard, and Slickyboard, a 30" x 25" sheet suitable for whiteboarding, flipcharts and magnetic bulletin boards.
The company has reached 30 percent of its funding goal.
For more information, please visit the Slickynotes Indiegogo page, https://www.indiegogo.com/projects/slickynotes-unleash-your-creativity, or contact EcoStatic via phone (877-483-1739) or email (n(dot)pizarro(at)ecostaticinc(dot)com).