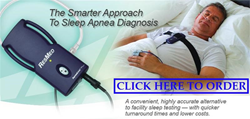 Las Vegas, Nevada (PRWEB) March 20, 2015
MyCpapStore.com, an online provider of CPAP equipment and supplies, is pleased to announce that it is now offering a home sleep apnea test that provides an exceptionally accurate alternative for individuals who would prefer not to undergo lab testing. My Cpap Store is based in Las Vegas, Nevada.
A home sleep apnea test is often recommended by physicians who suspect their patients have a serious condition that prevents them from getting a full night's rest. In particular, this type of test is designed to assist in diagnosing obstructive sleep apnea in patients who show signs of having this condition.
Symptoms associated with sleep apnea include loud or excessive snoring, drowsiness after a full night's sleep, and interrupted breathing during slumber. It is a serious medical condition that is associated with other health issues, including chronic diseases such as high blood pressure and diabetes.
A representative from the My Cpap Store stated, "We want to provide an affordable option for individuals who need to undergo sleep testing. Our home sleep apnea test is reasonably priced and delivers fast results, so our customers get access to the information they need quickly and without incurring a huge cost.
A home sleep apnea test is a convenient way for people to get tested without having to rearrange their work schedule. My Cpap Store has a video on its website that allows interested individuals to get a clear look at how this testing equipment should be used. The video can be found on the ordering page for this product.
Anyone who has questions or would like to know more about sleep apnea, home tests, or the equipment used to treat this condition is invited to visit http://mycpapstore.com/. Alternatively, they can contact the customer service department during normal business hours.
About My Cpap Store
Located in Las Vegas, Nevada, My Cpap Store is an online provider of healthcare solutions and technology for individuals in need of CPAP machines, masks, supplies, parts, and humidifiers. All of the products sold on the website are new. All orders being sent to locations in the continental United States qualify to receive free standard shipping. As an online resource for CPAP equipment, the company is in a position to ship to destinations all around the world, including international locations.
My Cpap Store LLC
6130 West Flamingo #543
Las Vegas, NV 89103
702.677.2575
info(at)mycpapstore(dot)com
http://mycpapstore.com/
###