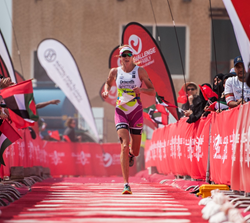 My feet are my life, and that's why I use Swiftwick socks.
Brentwood, Tenn. (PRWEB) March 23, 2015
Swiftwick, a leading athletic performance sock company, has officially signed champion triathlete, Leanda Cave, to the Swiftwick athlete team.
Cave began her triathlon career at the Olympic distance in 2001 and gradually became a top female triathlete in the World. In 2012, Cave won both the IRONMAN 70.3 World Championships and IRONMAN World Championships, the only female triathlete in history to accomplish both feats in a single year.
This is Cave's first year signing with the Brentwood, Tenn. based performance sock company. She has a full racing schedule for 2015 with races spanning all across the globe and has her eyes on the IRONMAN World Championships once again with Swiftwick on her feet.
"I've tried many different brands of socks over the past three years, and nothing compares to Swiftwick," said Leanda Cave. "My feet are my life, and that's why I use Swiftwick socks. They keep my feet cool and comfortable when the pace gets hot!"
Swiftwick socks are built on the "4 Pillars of Performance:" Managed Compression™, chemical free wicking, and blister-free and anti-odor properties. These characteristics are what have elevated Swiftwick as a top sock company in the run, bike and triathlete markets.
"Leanda is a great advocate for the Swiftwick brand, and we're excited to support and cheer for her in 2015," said Swiftwick President Chuck Smith. "We design our socks with athletes like Leanda in mind and are driven to create products that propel athletic performance."
Swiftwick carries eight styles that provide athletes options to help them find the right Swiftwick sock that fits their preference.
To learn more about Swiftwick socks, visit http://www.swiftwick.com
To learn more about Leanda Cave, visit: http://leandacave.com/
About Swiftwick
Founded in January 2008, Swiftwick is headquartered in Brentwood, Tenn. The company is a performance sock manufacturer that proudly employs an American workforce in high-quality textile manufacturing. Swiftwick is an innovator in designing and producing superior socks. The company has a culture focused on manufacturing through environmentally friendly means, social responsibility and leading customer service.
Media Contacts: Kathryn McKinley (Swiftwick) – 615.983.6397 or media(at)swiftwick(dot)com
Lou Cantin (Leanda Cave) - 954-237-7525 or lou(at)jmcmarketing(dot)net