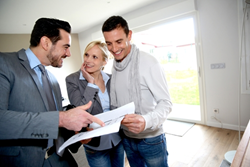 builders are optimistic that the strong growth in mortgage applications for new home purchases will continue in 2015
Chicago, IL (PRWEB) March 21, 2015
While fewer mortgage applications were submitted in March, The Federal savings Bank was pleased to note that solid home sales could trend throughout the year. New home purchase mortgage applications rose 12 percent in February from January, according to the Mortgage Bankers Association. The MBA recently noted that mortgage lending activity was mixed in the beginning months of 2015; however, there are positive signs that home purchases will grow later in the year.
The MBA said the volume of mortgage applications fell 3.9 percent in the week ended March 13 from the previous week. Although total mortgage applications decreased, the share of applications for loans from the U.S. Federal Housing Administration surged 14.3 percent week over week in the latest report.
Of the mortgage applications for new home purchases, conventional loans dominated the Builder Application Survey. The majority of applications (65.4 percent) were for conventional loans, followed by FHA loans (20.7 percent), loans from the U.S. Department of Veteran Affairs loans (12.7 percent) and Rural Housing Service/U.S. Department of Agriculture loans (1.2 percent). The popularity of government-backed home loans could increase because the FHA decreased its mortgage insurance premiums.
The Federal Savings Bank was also pleased that builders are optimistic that the strong growth in mortgage applications for new home purchases will continue in 2015.
"An increase in mortgage applications to builders in February over strong January numbers bodes well for new home purchases this year," said Lynn Fisher, vice president of research and economics at the MBA. "Applications in both January and February were up on a year over year basis."
Additionally, Zillow noted in a recent report that interest rates fell, which could boost home sales and mortgage application volumes higher.
"Rates fell early last week as the European Central Bank officially launched its bond purchase program and remained low due to weak U.S. data released later in the week," said Erin Lantz, Zillow vice president of mortgages.
Contact the Federal Savings Bank, a veteran owned bank, to learn more about mortgages