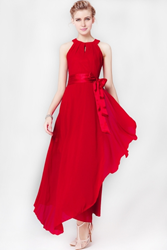 This year, OASAP proposes three key words of business philosophy: fashionable, affordable and comfortable.
Los Angeles (PRWEB) March 24, 2015
It's finally spring - the girls take off their heavy winter clothes and begin to prepare for a grand spring fashion show. In order to catch up with this fashion feast, OASAP has launched the spring dresses collection in early March. This time, OASAP not only released the original designers' dresses, but also adjusted the prices of all of its products. The prices will be much more affordable compared to a lot of similar sites.
For those who are familiar with the women's clothing industry, it is easy to find that all clothing companies are focusing on fashion and brand, but most companies keep their prices high. This spring, the competition has been taken to a whole new level by OASAP; it's officially survival of the fittest now.
After OASAP slashed its prices, the "catfish effect" began to appear in the fashion market. A lot of similar companies were forced to adjust their prices, but the rates still did not reach the base line. For example, a same-quality Vintage Jacquard Sleeveless Dress is sold at higher prices on other sites than on Oasap.com: Oasap.com sells it for $19.93; while Sheinside.com sells it for $33.00 and Romwe.com for $38.99.
"In the women's fashion market, there are two very important roles: product suppliers and distributors. Romwe and Sheinside are still in the stage of distributors; while OASAP cooperates with suppliers directly now. This is the reason that OASAP can cut prices even by 50% off," Mr. Moore, OASAP CEO, said. "Of course, the lower prices do not mean a reduction in quality and service. This year, OASAP proposes three key words of business philosophy: fashionable, affordable and comfortable," Moore said. "That is, OASAP will always provide fashionable products at affordable prices for global fashion lovers, and, at the same time, it will keep the best service to make every customer feel comfortable."
This time, OASAP reduced prices for most of its collections, from spring dresses to fashion shoes, from lace shorts to printed shirts. Everyone can enjoy the tangible benefits from the site.
ABOUT OASAP
OASAP IS: A High-street Fashion Online store
OASAP Likes to: Deliver fashion & love!
OASAP is a global online store dedicated to high-street fashion by offering various kinds of women's apparel, bags, shoes, jewellery accessories, beauty products, etc.
OASAP was founded in late 2011, and has already grown to be the leader of high fashion online stores. We keep updating products at a high rate every day. Now, we update more than 300 new products each week, including a Sultry Plunging Neckline Backless Mini Dress, Eye-catching Strap Chiffon Maxi Dress, floral dress, Sexy Leopard Dress and so on. The products mentioned before definitely belong to the latest fashion trend.