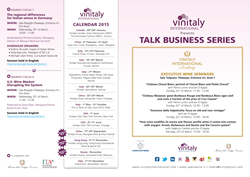 the aim is to facilitating the encounter amongst international speakers and attendees and allow a continuous dialogue between foreign markets and the world of Italian wine
Verona, Italy (PRWEB) March 21, 2015
On the occasion of the 49th edition of Vinitaly, Vinitaly International will be organizing its annual "Talk Business Series," with the aim of facilitating the encounter amongst international speakers and attendees and allowing a continuous dialogue between foreign markets and the world of Italian wine.
These eight seminars are designed to give a 360-degree overview of the business of Italian wine in top or upcoming markets such as China, Hong Kong, Russia, the US, Brasil and Germany and will include panel discussions with importers, educators, sommeliers, and journalists from each country.
This year, the Chinese market will be explored in some depth in three seminars. One will be dealing with the big picture of a market in growth and the opportunities it presents in "Wine in China: big importers, small importers" Tuesday 24, 16.00 - 17.00 (Sala Puccini). Moderator Martin Hao, Founder and Chief wine consultant at Happy Vino Wine Education will give an overview of the status of Italian wine in China from the point of view of its local importers confirming its current 6% market share whilst making predictions for potential growth in the future.
Two complimentary seminars on China will be dedicated to the assertion that to maintain interest and growth, exporters must take the Chinese consumer's own gastro-oenological traditions, culture and regional tastes into account. In "Wine Education in Hong Kong: the challenges of food & wine pairing and wine descriptions" Sunday 22, 14.00 - 15.00 (Sala Bellini), Moderator JC Viens, Grande Passione, together with four of the most experienced educators in Hong Kong and China will deal with the challenges of communicating about wine to a largely inexperienced market.
The world of wine takes its cultural coordinates from its places of origin and is traditional wine savvy in markets where food and wine are naturally paired. In China this self referential European starting point must give way to the Chinese cultural context: the peculiarities of Chinese food and the challenge of communicating with a largely inexperienced consumer to effectively reach as broad an audience as possible. Helping us with this will be Weiley Lu, sommelier at The Loop Wine & Kitchen in a subsequent seminar entitled "The Chinese Palate according to Chinese Sommelier", Monday 23, 16.00 - 17.00 (Sala Respighi) giving us a better idea of how Italian wine can appeal to Chinese tastes which are as varied as you might expect from a country with such a long history encompassing such diverse geographical areas and home to so many dissimilar ethnic groups. Helped by sommeliers from different Chinese regions we can better understand how to get through to this enormous potential market.
Following on from last year's focus on Russia, which considered the impact of recent sanctions, this year's seminar "What do Italian producers need to know about the Russian wine market today?" Sunday 22, 16.00 - 15.00 (Sala Bellini), brings news of the inevitable downturn in Russian sales in the face of recent depreciation of the rouble and outlines counter measures that can be adopted by importers and producers who want to keep up their business with Russia.
Moving to South America, in "Brazilian wine market brief" Tuesday 24, 14.30 - 15.30 (Sala Puccini) Alexandra Corvo, sommelier and owner of the "Ciclo das Vinhas" wine school will be plotting Brazils wine consumption history along a timeline showing that there have been significant changes in the types of wines being imported since the market was opened up in the nineties. She will use this tool to anticipate future trends while Andrea Batazzi, Delegate of Veronafiere for South America will carry out a more in-depth analysis of the market's current situation.
Another useful overview will be conducted on the German market In the seminar "The regional differences for Italian wines in Germany" Wednesday 25, 10.00 - 11.00 (Sala Respighi) when Moderator Richard Grosche, Managing Director of Weingut Reichsrat Von Buhl, will look at how patterns emerge from the consumption of Italian wine in neighbouring Germany. Interestingly, levels of consumption and sales of each type of Italian wine would seem to be broken down by preferences matured in Germany's own wine growing regions.
Those looking for innovate strategies for the American market should look no further than the seminar to be given by Steve Raye, Managing Partner Brand Action Team "U.S. Wine Market: Disrupting the System" Wednesday 25, 11.3 (Sala Respighi) Attendees can expect "Practical advice they can put to use immediately" as Steve Raye himself puts it, having already given other audiences the benefit of cultural tips for doing business in America with traditional and disruptive marketing strategies for winning the battle of the "last three feet of the shelf".
The Talk Business Series lives up to its promise of providing practical, straightforward advice to the Italian wine sector with "30 lessons of wine communication for Italian brands" Monday 23rd March 14.30 - 15.30 (Sala Rispighi). Moderator Cathy Huyghe, Columnist for Forbes expects that Attendees will leave the session with 30 "takeaway" lessons of wine communication for big and small Italian brands abroad.
About:
Veronafiere is the leading organizer of trade shows in Italy including Vinitaly (http://www.vinitaly.com), the largest wine and spirits fair in the world. During its 48th edition Vinitaly counted some 155.000 visitors and 4.000 exhibitors on a 100.000 square meter area. The next edition of the fair will take place on 22 – 25 March 2015. The premier event to Vinitaly, OperaWine (http://www.vinitalyinternational.com) "Finest Italian Wines: 100 Great Producers," will unite international wine professionals on March 21st 2015 in the heart of Verona, offering them the unique opportunity to discover and taste the 100 best Italian wines, as selected by Wine Spectator. Since 1998 Vinitaly International travels to several countries such as Russia, China, USA and Hong Kong. In February 2014 Vinitaly International launched an educational project, the Vinitaly International Academy (VIA) with the aim of divulging and broadcasting the excellence and diversity of Italian wine around the globe. VIA is now ready to present the first edition of its VIA Certification Course to be held in Verona from the 16th to the 20th of March 2015 with the aim of creating new Ambassadors of Italian Wine in the World.