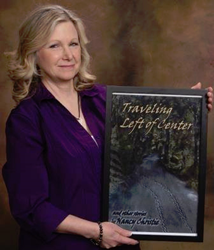 "Nancy Christie creates a unique and compelling world with only a few strokes of her pen."
(PRWEB) March 22, 2015
Author Nancy Christie will be at the Joseph-Beth Booksellers at the Cleveland Clinic Gift Shop, 9500 Euclid Avenue in Cleveland, Ohio on March 26 from 11 AM to 2 PM. She will sign copies of "Traveling Left of Center and Other Stories" and "The Gifts of Change." Copies of the books will be available for sale.
*About "Traveling Left of Center and Other Stories"
What happens when people face life situations for which they are emotionally or mentally unprepared? They may choose to allow fate to dictate the path they take—a decision that can lead to disastrous results. The characters in "Traveling Left of Center and Other Stories" are unable or unwilling to seize control over their lives, relying instead on coping methods that range from the passive (The Healer) and the aggressive (The Clock) to the humorous (Traveling Left of Center) and hopeful (Skating on Thin Ice). But the outcomes may not be what they anticipated or desired. Will they have time to correct their course or will they crash?
Nancy Christie's short stories are brilliant, disturbing, and exquisitely written. Hers is a hypnotic, lyrical voice that captures the reader's heart with its deep, rich humanity.
*About Nancy Christie
Nancy Christie is a full-time writer whose passion is fiction. Having written for numerous magazines and journals, her short stories can be found in literary publications such as "Full of Crow," "Fiction365," "Red Fez," "Wanderings," "The Chaffin Journal" and "Xtreme." Christie is currently working on several other book projects, including a novel and a book for writers. She is the founder of "Celebrate Short Fiction" Day. A member of the American Society of Journalists and Authors, Nancy teaches workshops at writing conferences and schools across the country and hosts the monthly Monday Night Writers group in Canfield, Ohio.
*About Pixel Hall Press
Pixel Hall Press is a relatively new, old-fashioned small publishing house whose focus is on discovering literary gems and great stories that might otherwise be overlooked. Our mission is to publish books that energize the imagination and intrigue the mind, and to be a conduit between readers and provocative, stimulating, talented authors.
In this era of digital technology, Wall Street involvement and merger mania, many mainstream publishers seem to have lost sight of core principles and the purpose of publishing. At the other end of the spectrum is the veritable avalanche of self-published books that are notoriously uneven in quality. Small boutique imprints like Pixel Hall Press are reclaiming the heart and soul of publishing by reviving the idea that a publisher's raison d'être is finding and nurturing great writers, and to provide readers with beautiful, meaningful, truly enjoyable books.