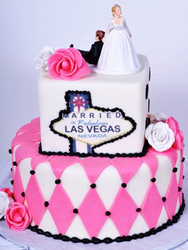 Las Vegas, NV (PRWEB) March 21, 2015
Pastry Palace, which is a Las Vegas bakery that is well-known for its assortment of pastries and cakes, is now offering specially priced wedding cakes intended for brides who are working with a limited budget. This family-owned bakery offers a varied selection of elaborate creations, providing brides with gorgeous designs in wedding cakes that are as beautiful as they are affordable.
The master chef at the Pastry Palace is pleased to be able to offer brides such exquisite displays for their special days at prices they can afford. This line of wedding cakes features designs serving 20 to 60 people, depending on the style and number of tiers. Each of these sugary confections is perfect for smaller, more intimate weddings. They are just as exquisitely crafted as larger versions serving a greater number of guests.
Currently, prices range between $130 and $280, and each of these special designs features 2, 3, or 4 tiers. Each of these designs is crafted from beribboned layers of sugary confection in their favorite flavors, white or colored buttercream frosting, fanciful scrolls, borders of tufted frosting, and floral cake toppers.
Chef Sonny had this insight to offer regarding his decision to create a line of affordable wedding cakes, "Every bride deserves to have the cake of her dreams, no matter how large or small her wedding is. Here at the Pastry Palace, we are honored to be able to offer affordable wedding cakes crafted with incredibly beautiful designs."
The Pastry Palace specializes in wedding cakes and provides a variety of flavors, including traditional vanilla. Brides may request customization of their wedding cakes, provided they do so well in advance of the event. Chef Sonny brings new meaning to sugar artistry with each of his amazing creations.
About Pastry Palace
A family-owned bakery situated in Las Vegas, Nevada, the Pastry Palace specializes in the creation of one-of-a-kind cakes, unique cupcakes, delicate pastries, and traditional baked goods crafted from scratch without artificial preservatives. Offering brides and grooms an attractive selection of options, the bakery specializes in wedding cakes, including an affordable selection intended to serve the needs of brides on a budget. At the Pastry Palace, Chef Sonny also offers everyone a chance to hone their skills of sugar artistry in one of his many classes.
Pastry Palace
4523 West Sahara Avenue
Las Vegas, NV 89102
info(at)PastryPalaceLV(dot)com
702.251.1555
http://pastrypalacelv.com/bride-on-a-budget/