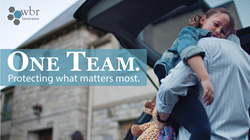 Virginia Beach, Va. (PRWEB) March 23, 2015
WBR Insurance, one of Hampton Roads' largest diversified insurance and financial services organizations, has updated and streamlined their online presence to offer customers additional channels for communication and information.
New features include:

Website design update
Social Media plugins for blog
Owners and agents John Wilson, Jr., Alex Bell, II, and Clay Robertson wanted more than just a different version of their website.
"Our goal is to provide a high level of content specific to our customers in Hampton Roads to help them make continued informed decisions about the products we offer," says Wilson. "Topics range from teen driving to elder care; information which impacts our customers home and financial life."
To improve their website, WBR Insurance integrated social media plugins within their blog while launching their new LinkedIn, Facebook, and Google+ channels, making it easier for customers to communicate and share information on the platforms they prefer.
"We want to connect with our customers through their favorite sites, and join in on the conversations that matter to them and our community," says Bell.
In addition to content, the new social media presence features the WBR Insurance's team.
"Our clients can learn who we are, what we specialize in, and why we believe in the services we provide," says Robertson.
About WBR Insurance
WBR is an award-winning licensed and certified agency based in Virginia Beach, VA. WBR has grown to be one of the largest diversified insurance and financial services organizations in Hampton Roads. The company provides a full range of insurance and financial services, including auto, commercial, homeowners and life insurance. One team. Protecting what matters most. For more information, visit wbrinsurance.com.
###
Hope Paryzek
757-729-3533
wbr(at)pstrats(dot)com