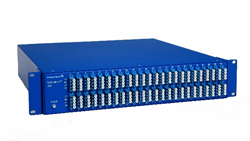 San Diego, California (PRWEB) March 23, 2015
CrossFiber Inc., a global supplier of SDN-enabled photonic solutions for next-generation transport and data center networks, announced today that it will showcase the latest generation of its industry-leading photonic switches at OFC 2015 in Los Angeles from March 24 to 26. CrossFiber's 96-port and 144-port switches will be available for viewing at the company's OFC exhibit booth (#439).
"Large scale datacenter providers must find a way to support the exponential growth in capacity without commensurate increases in capital expenditures and energy use. Photonic switching can be brought to bear to solve this industry challenge," said Mike Decelle, president and CEO of CrossFiber. "CrossFiber is working with the leading 'hyper-scale' datacenter operators to integrate photonic switching systems into their data center network architectures and associated control and orchestration systems. CrossFiber is also collaborating with range of industry partners to build a SDN ecosystem providing an integrated, turn-key solution for the broader data center market."
CrossFiber's next-generation product portfolio consists of 96-port and 144-port systems that offer superior optical performance, very low power dissipation per port, and high port densities. In addition, the CrossFiber x96 and x144 systems support a range of traditional and future management interfaces including a proprietary CLI, Web-based GUI, SNMPv3, and support for emerging SDN protocols like OpenFlow and NETCONF. The x96 and x144 products fit in 19" racks of 2U and 3U, respectively. Maximum power consumption is 35 watts.
CrossFiber photonic switches provide flexibility in the optical transport layer that otherwise would be configured manually with higher costs and longer provisioning intervals. A key benefit of photonic switching is that it is inherently bit rate and protocol-independent and is ideal for optimizing fiber-level bandwidth in data center and other advanced networking applications. The CrossFiber architecture realizes lowest cost-per-bit switching and supports "future-proofed", fiber data rates in excess of 400 Gbps.
About CrossFiber
CrossFiber is the leading innovator, developer and manufacturer of breakthrough photonic switches for data centers and telco fiber optic networks. CrossFiber photonic switches are based on proprietary technologies which combine 3D MEMS micro-mirrors on silicon, non-invasive beam steering (NIBS), and proprietary switch control software. CrossFiber's unique combination of performance and cost makes LiteSwitch™ systems the most suitable across all major applications in data centers and telco fiber optic switching. More information can be found at http://www.crossfiber.com.