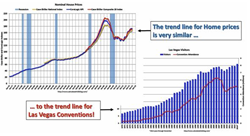 a graph of home prices almost exactly mirrors a graph of Las Vegas convention attendance!
Chicago, IL (PRWEB) March 22, 2015
Peoples Home Equity was intrigued by a recent article highlighting an interesting correlation between Las Vegas home prices and convention volume.
Most analysts use local mortgage applications, weekly, quarterly, and year sales figures as well as local unemployment and GDP numbers to gauge the health of a metropolitan housing market. However, CapitalGazette.com looks at different clues to estimate the growth or contraction of metro housing markets, such as architect billing hours. The assumption is the more billing hours the architect is clocking the higher the likelihood of more homes being designed and thus built. Hotel occupancy rates and restaurant volume are also good indicators for understanding consumer confidence. The assumption here is that if more Americans are frequenting hotels and restaurants then there is a higher chance that home prices will increase as well. These two metric may be especially useful relating to the housing market in Las Vegas. Apart from these routinely used metric, CapitalGazette.com stumbled upon a strange "relationship between changes in home prices and Las Vegas convention activity."
In its March 22nd release CapitalGazette states "Las Vegas is probably the convention capital of the world, and they draw huge numbers of people for a large variety of conventions. Some of the conventions are small; some have a huge attendance." Attendees at these conventions range from just 200 at the Balloon Design Group, to 25,000 for the Adult Entertainment Expo, to 163,000 at the Consumer Electronics Show, the largest of all the events. CaptailGazette states "When business is good, convention activity in Vegas is up — and when it's bad, the conventions are smaller or don't happen at all. What we found was that a graph of home prices almost exactly mirrors a graph of Las Vegas convention attendance!"
Peoples Home Equity was astonished to see that indeed, the graphical representation of Las Vegas home prices is basically in 1 to 1 correction with convention volume.
Las Vegas is growing, but home prices remain attractively below peak levels. The S&P/Case-Shiller home price index for Las Vegas was last recorded at 137.41 in December 2014, which is still -41.5% below the peak level of 234.78 in August 2006. Peoples Home Equity thinks Las Vegas home prices will continue to increase this year and next due to 2 factors. First, the unemployment rate of the city has fallen from 15% in July 2010, to just 6.9% for December 2014. The lower unemployment rate of the city is naturally reflective of higher convention volume. Second, the number of foreclosure homes in Las Vegas continues to decrease as the local courts slowly but surely proceed with repossessing and selling homes.
If in need of a mortgage, note that Peoples Home Equity has two branch locations in Las Vegas. Contact a branch loan officer today at: 262-563-4026