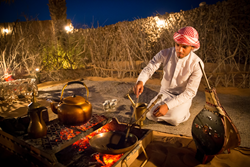 Guests want to travel into the past, to find out where Dubai's journey began.
Dubai, UAE (PRWEB) March 23, 2015
Considered to be the 'Oscars of the Travel Industry', the World Travel Awards acknowledge, reward and celebrate excellence across all sectors of the global travel and tourism industry. Platinum Heritage Tourism has become the first Dubai-based firm to be short-listed in the Middle East Responsible Tourism category. According to Adam McEwan, Managing Director of Platinum Heritage, "People don't just travel to see, they travel to understand. Since Dubai is well known for world-class hotels and restaurants, for luxury and ground-breaking architectural feats, people forget that international guests want to travel into the past, to find out where Dubai's journey began."
Responsible Tourism embodies not just environmental conservation and protection but also the involvement and preservation of local communities and customs. Platinum Heritage has turned its back on the traditional desert safari model and instead uses iconic 1950s Land Rovers, the first 4WDs to traverse the rugged deserts of the region. Embarking on a journey back in time, visitors have a chance to learn the ancient art of falconry, view native flora and fauna inside a conservation reserve supported financially with donations from each guest, sample delicious Emirati cuisine while viewing traditional cultural entertainment performances, and even meet with local Bedouins to learn more about their experience of Dubai's massive transition.
Issam Kazim, Chief Executive Officer of Dubai Corporation for Tourism and Commerce Marketing (DCTCM) commented: "I am very pleased that Platinum Heritage Tourism has been shortlisted for this award. The company is an important partner of DTCM, helping to showcase the many remarkable experiences available in Dubai by providing world-class tourist excursions and activities as well as exceptional service. It is particularly pleasing that the company's efforts with regard to responsible tourism, conservation and environmental protection are being recognised, as these are essential components to ensure Dubai and Emirati heritage are preserved for future generations."
"By employing local community members, protecting the fragile eco-system by avoiding damaging dune bashing, running on 100% solar power and, most importantly, protecting and showcasing Emirati heritage and culture, we want to prove that a tourism business does not have to be a distant observer of a destination, and that it can be an integral force driving positive change," said Mr McEwan.
To show your support for Platinum Heritage, please register and vote here.