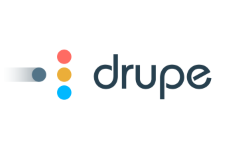 Tel Aviv, Israel (PRWEB) March 25, 2015
Smartphones are all about apps. Apps are used for everything and that's probably why launchers look exactly like PC desktops. However, roughly 60 percent of all time spent on our devices has to do with interacting with people. That's why making phones people-centric, instead of app-centric, makes a world of sense. And that is exactly what drupe does: It puts people as the anchor of the mobile experience – and it is launching on Google Play today.
drupe provides an incredibly intuitive experience that puts users' contacts in the spotlight. Want to interact with someone? It's as simple as 'drag and drop,' or in this case, 'drag and drupe.' At all times, the drupe dots hover over the device's screen, serving as a near-invisible access point, enabling users to use it whenever they want. drupe's display has one's contacts on one side and their apps on the other, all in one screen, so when a user wants to interact, they simply swipe the desired contact to the app they want to use. Same experience, same swipe, no matter which app, no matter which contact.
drupe is essentially the natural evolution of mobile communications. Want to call a friend? Drag their contact to the phone app. Want to navigate to mom and dad? Drag their contact to the navigation app. The same can be done with WhatsApp, text messages, calendar invites, Facebook Messenger, video calls and more and more. Additionally, drupe enables users to do something that no app has enabled before: Create a drupe group, and communicate with it across apps. Drupe enables users to create one group and use it with any of the supported apps, making drupe the first cross-app group solution.
With drupe, all one's contacts are just a swipe away. drupe analyzes one's usage and predicts with whom they'd like to communicate with by dynamically building and updating their 'favorites' list. It also lets users see a unified recent log in a cross-app manner, and search for contacts from all their apps. drupe is always there – lock screen, home screen, and even when inside apps.
drupe, launching today on Google Play, is already working on the next steps in the evolution of the mobile interactions: making interactions contextual – depending on both sides' presence and state, so users literally see the right person at the right time with the best app to approach them! In addition, drupe is working to integrate mobile payments, content sharing, and games, all using one swipe.
"This kind of people-centric activity is what makes drupe truly unique," says Barak Witkowski, drupe co-founder and CEO. "Let's remember that today, each app has its own way and UI for launching an interaction, and drupe brings ease and consistency to the experience. No matter which app users want to use, they just swipe a contact, and they are done. Everyone becomes just one swipe away. While we do see some high-end devices trying to bring contacts to the front, the user-experience they offer is very limited. drupe's vision is about letting users interact with the people in their lives, leaving the app-mess behind them."
Drupe is launching on Google Play today. Don't wait: Get drupin