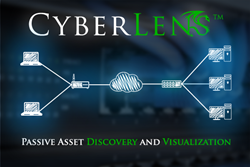 CyberLens™ empowers you with the ability to visualize your cyber assets and their communications.
CHICAGO, IL (PRWEB) March 24, 2015
Today, Dragos Security LLC launched its solution for identifying assets and understanding the networks of critical infrastructure and high value information technology – CyberLens™. The software passively discovers assets and visualizes them on an easy to use graphical map while storing historical records for use cases such as network security monitoring, incident response, and network configuration. CyberLens™ is the first of its kind for critical infrastructure networks such as those using industrial control systems (ICS) and supervisory control and data acquisition (SCADA) systems. Its targeted deep packet inspection allows it to identify and record information collected from ICS protocols such as ModbusTCP, DNP3, CIP, and more.
Additionally, CyberLens™ customers can enhance the product through Lenses requiring them to only pay for the features they want. Cybersecurity needs are different from organization to organization, Dragos Security designed CyberLens™ in a modular fashion where organizations can customize their CyberLens™ at the time of purchase and can add or remove features later to meet their evolving needs. Additionally, data sources and tools internal to the organization can be linked through its open API.
The developers behind CyberLens™ combine years of experience working in critical infrastructure security. Three of the four co-founders have also worked in the United States Department of Defense and Intelligence Community. Co-founder Robert M. Lee as an example spent time in the Air Force and Intelligence Community working all aspects of the field as an attack, intelligence, and defense operator. He stood up a unique mission in one of the Intelligence Community's agencies focused on the discovery of national level threats to ICS/SCADA networks. His observations on what organizations needed most for ensuring security and reliability served as one of the inspiration for CyberLens™.
"Most organizations want to achieve security but do not know where to start. A constant push for highly expensive and advanced products seems like a great approach but without mastering the fundamentals these solutions are drastically reduced in their effectiveness." said Robert, "the team created CyberLens™ with that issue in mind: it simplifies organizations' needs to truly understand and easily visualize their assets and networks in a way that adds value to every other aspect of security. You cannot defend what you do not know you have."
CyberLens™ just finished completing an 18 month long development and BETA program in industries across the financial, oil and gas, water, electric, manufacturing, health care, and nuclear sectors. The feedback was overwhelmingly positive but one question consistently came up regarding the tool's price. "Many of our customers were surprised at how inexpensively we were pricing CyberLens™," said co-founder Justin Cavinee. Justin's ten years of experience in the Intelligence Community designing software for computer network defense was a key contribution to Dragos' ability to develop CyberLens™ in a way that could scale with future versions. "The price starts below market standards so that we can fairly get our software into the organizations that need it most even if they do not have large security budgets – our passion stems from seeing threat actors targeting critical infrastructure for far too long. It's time for defenders to understand their networks better than the adversaries do. To meet different network sizes we have designed three versions of CyberLens™ with the first launching today. The second and third versions of CyberLens™ will enable scaling for much larger enterprise networks as well."
For more information on CyberLens™ visit: http://www.DragosSecurity.com
Contact:
Sales, Dragos Security LLC
Sales(at)DragosSecurity(dot)com