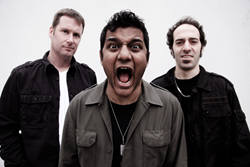 Loud, Addictive Guitar Pop Music
London (UK) (PRWEB UK) 25 March 2015
London based 3 piece outfit The Silver Bayonets release their hugely addictive "power pop" debut single "Schemes" on 6 April, ahead of a full 11 track album, "The Pain Inside Your Head", on 11 May.
The band features Kabir Sheikh (guitar/vocals), Ross Guy (bass/vocals), and Enzo Cuticchia (drums/vocals), Cuticchia having relocated to London from Italy specifically to find success on the UK music scene.
Playlisted by a number of regional and web based radio stations in the UK, USA and Italy, their debut track "Schemes" has already drawn critical praise from pre-release reviews -
"Fantastic melodic pop rock!" Matty James, Pirate Heart Records.
"This is the classic single that you place in your playlist and listen (to anywhere)...At this point I'm really curious to hear the entire album" Bandit Rock Radio.
"A great big rock song" RecordRewindPlay.
Both "Schemes" and the album "The Pain Inside Your Head" appear on the Header Records label and are available to pre-order now from iTunes and Amazon.
The band will be gigging in support of their upcoming releases at London venues 229 (18th April) and The Barfly (9th May).