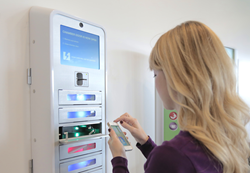 We're pleased with the consistent revenue stream that the Brightbox charging lockers generate. The ability to charge phones quickly and securely gives our locations added appeal to customers who love the convenience.
New York, NY (PRWEB) March 23, 2015
Brightbox, Inc. (http://www.brightboxcharge.com), the leading platform provider of secure mobile device charging lockers, is pleased to announce the successful inception of its Owner-Operator Program. Charter member owner-operators Best Bars, OIG and Downtown Charge are enhancing the guest experience at a variety of restaurants, bars, casinos, and nightclubs across the country, keeping patrons charged and delighted by providing safe and secure charging via the Brightbox® Mark3 Charging Platform.
Brightbox, a New York based B2B kiosk technology company, is the global leader in developing and deploying secure charging stations for on-the-go people with mobile devices, including cell phones, phablets, backup chargers and batteries. The Brightbox® Mark3 mobile charging platform is the most innovative, secure mobile device charging solution available in today's marketplace and has been selected as the "Best Digital Signage Kiosk Application" by rAVe [Publications], the leading expert magazine in audio visual reviews, at Digital Signage Expo 2015.
Consumers can continue to communicate, navigate, search, share, pay and play on their mobile devices, resting assured that their phones are being charged at an optimal rate in a Brightbox station that delivers both physical security and data privacy. Cell phone users simply swipe a credit/debit or complimentary card to open an available station chamber, plug in their mobile device or accessory to one of three industry standard charging cords, close the chamber and return later to swipe the same card to retrieve their charged phone. Venues can offer device charging via Brightbox as either a complimentary or paid amenity.
Best Bars, based in New York City, provides Brightbox charging lockers in 10 bars in New York City and Chicago. Louisiana's Oaklawn Investment Group (OIG) has charging kiosks in a number of casinos, while Downtown Charge currently serves a series of restaurants, bars and nightclubs in downtown Orlando's Wall Street complex with 15 Brightbox charging stations.
The Brightbox Owner-Operator Program provides multiple monetization opportunities—from recurring monthly revenue via PCI-compliant card payment processing, without the hassle of coin operation, to customized on-screen ad content as well as sponsorship and branding initiatives that increase customer loyalty and brand impressions for which owner-operators can receive credit.
"The program is an ideal way for operators in automated retail businesses like vending, juke box, ATM, and Point-of-Sale to increase their service offerings and generate additional income," said Don Rossi, Senior Vice President of Sales at Brightbox. "ROI from advertising revenue as well as amenity fees is immediate and impactful. Owner-operators can also attain quick capital payback and see profits from short-term kiosk rentals for conferences, festivals and other events."
Brightbox charging stations are increasingly favored by the food and hospitality industry as much for their stylish looks and customizable branding and messaging platform as for their proven charging speed and unrivaled security. They sport an elegant, clean profile along with a variety of color themes for units, branded panels, user interfaces and lighting that are easily customized for different venues and verticals.
The ability to safely charge via Brightbox improves the overall customer experience helping to competitively differentiate a venue. Guests happily remain longer while staying connected to family, friends and social apps, knowing they can securely charge their phones at any time. Brightbox charging is instrumental in retaining patrons who might otherwise be tempted to leave if their phone is without a charge, while also ensuring continued consumer interaction with a venue's targeted mobile offers and promotions. Brightbox drives traffic, engages patrons and results in more satisfying dwell times while offering a branded benefit that guests associate with their experience.
"We're pleased with the consistent revenue stream that the Brightbox charging lockers generate," said Ted Lanzi of Best Bars in New York. "The ability to charge phones quickly and securely gives our locations added appeal to customers who love the convenience. It's another reason for them to frequent the bars we serve."
The Brightbox® Mark3 features a 10" interactive touch screen and a strong brand-messaging platform with video and slide show capabilities that provide effective delivery of intimate and direct sponsor messaging, surveys, brand offers and promotions. Exclusive offers are also available via branded key cards specifically tailored for customers, events and activations. No other charging kiosk company offers a similarly competitive, robust platform with such a range of security, engagement and interactivity features.
Brightbox hardware provides universal accessibility for cell phone users, providing them with freedom, convenience and security while delivering the safest fast charge possible at optimized manufacturer recommended rates up to 2.1 amps. The UL and agency certified stations ensure the physical security and data integrity of phones being charged, are PCI compliant with a best-in-class encrypted card reader and meet the highest standards for safety and security. They offer retractable charging cables and chambers that can accommodate nearly any mobile device, including the latest phablets.
"We love having Brightbox in our venues. Guests stay longer and staff isn't saddled with babysitting phones," said Christopher Sharplin of Oaklawn Investment Group (OIG). "Working with Brightbox is a pleasure. They're completely responsive to our needs and fit well with our venues."
About Brightbox
Brightbox® is B2B kiosk technology solutions company providing global venues and users with the best-in-class secure mobile device and accessory charging platform for marketing, sponsorship and venue interaction. Founded in 2011 and based in New York City, Brightbox delivers intelligent and innovative charging solutions and has deployed its secure charging lockers in 4 countries and 22 states in a variety of event and vertical markets that include hospitality, entertainment, healthcare, retail, education, transport and government.
Event customers include AOL, AdWeek, American Airlines, BBC ComicCon, CEDIA, Citibank, Coca-Cola, Detroit Grand Prix, Discovery Channel, Event Tech, FISH, Gartner, GoPuck, HBO, IBM, IMEX, InCharged, Intel, Jack Morton, Major League Baseball, Minor League Baseball, NFL Experience, Pitney Bowes, Octagon SXSW, PCMA, Smart Source, So Cool Events, Societe Generale, UBS, Verizon, and Wells Fargo.
Enterprise customers include Dream, Hilton, Hyatt, Marriott, Omni, Sheraton, Caesars, MGM, Heineken, Christie's, Rite Aid, Toys'R'Us, Westfield Malls, New York Red Bulls, Tampa Bay Rays, Time Warner Cable, Universal Studios, Baycare, Baystate Health, NY Presbyterian Hospitals, Mount Sinai Health, Orlando Health, Yale New Haven Health, American Airlines, British Airways, Columbia University, and BR CHARGE. Learn more at http://www.brightboxcharge.com and @brightboxcharge