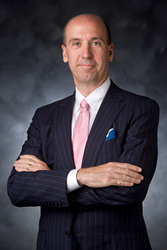 Business models are changing daily, while others are fading away completely, so it's important as a futurist to help the leaders of the organizations I work with, to be aware of their blind spots
Phoenix, AZ (PRWEB) March 24, 2015
Global futurist Jack Uldrich has made a career out of helping leading organizations future-proof themselves, and he loves doing it. "The futurist's job is to focus on the big picture and point out the 800-pound gorillas that others are missing because their attention is focused elsewhere," says Uldrich. "I want to help future-proof as many businesses as I can against all of the changes that are coming tomorrow. Business models are changing daily, while others are fading away completely, so it's important as a futurist to help the organizations I work with to be aware of their blind spots."
The days that Uldrich isn't busy traveling the country speaking on future-proofing, unlearning and top tech trends, he spends researching and 'seeing' what the latest changes in technology may be and then writes on those trends. Uldrich is the author is of over 11 books, his most recent book is "Foresight 20/20."
Uldrich's keynotes are thought provoking, motivating and incredibly easy to digest and relate to. His next engagement is today at the 2015 Innovation Leadership Summit in Scottsdale. Uldrich's other keynotes have included PIMA, ABB/Thomas & Betts Emax 2 product launches, Verizon Wireless Connected Technology Tour, and Emerson's Global Community Exchange.
Uldrich's approach to future-proofing businesses is all about "taking the blinders off" and taking on the 'Big AHA' which is Uldrich's acronym for Awareness, Humility and Action. According to Uldrich, "Many potential and upcoming innovations are already foreseeable given today's capabilities and tools. What's needed to reveal them is awareness and the humility to give up stuck-in-a-rut thinking patterns that stifle useful questions and possibilities. Then, a course of action can turn these desired futures into new realities."
Easier said than done but Uldrich plans to forge ahead and future-proof as many businesses as he can. Following his keynote for the 2015 Innovation Leadership Summit, Uldrich will speak with a leading pharmaceuticals firm in New York and deliver the keynote address for the 2015 Expo for the International Card Manufacturers Association in Phoenix on March 30th.
Parties interested in learning more about Uldrich, his writing or speaking availability are encouraged to go to his website. Media wishing to interview him or to learn more about the event can contact Amy Tomczyk at (612) 343-0060.