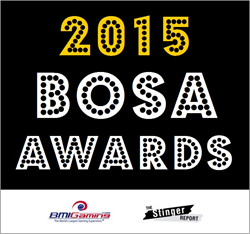 Boca Raton, Florida (PRWEB) March 24, 2015
Marking its fourth year together, BMIGaming.com and The Stinger Report officially announced the winners of the highly anticipated Best Of Show Arcade Machine Awards (BOSA) for 2015.
The Best Of Show Arcade Machine Awards recognizes and honors the best in new arcade machine and amusement device innovation, creativity, application and technology, from products seen and reviewed at the 2014 IAAPA Attractions Expo.
The BOSA Awards have become the noted 'mark of excellent' within the amusement industry. Growing in size each year, the BOSA continues to chart new arcade and amusement sector trends, plus the use of exciting and innovative new amusement technologies. This year, the BOSA Awards continues to expand with the new 'Motion Simulators, Motion Rides and Interactive Motion Games ' category, for a total of four separate amusement machine awards
Finalists for the Best Of Show Arcade Machine Awards are assigned scores by a panel comprised of eight judges from the staff at BMIGaming.com and The Stinger Report, based on five areas of importance : Game Playability / Enjoyment, Game Originality / Uniqueness, Market Relevance, Earning Potential and Game Pricing.
Each BOSA Awards category offers only the potential for products to be awarded either a Gold, Silver or Bronze Medal, or 'Notable Mention' Award.
All 2015 BOSA Award winners will be honored at the annual Amusement Expo in Las Vegas next week, and this year's award winning products are featured on the BOSA Awards Page : http://www.bmigaming.com/bosa
Click here for a PDF version of this press release with award winner picture links

Category One : Video Arcade Games
Gold Medal Award : Jurassic Park Arcade Motion Deluxe | Raw Thrills
Silver Medal Award : Sega Showdown Special Attraction | SEGA Amusements
Bronze Medal Award : Pump It Up Prime 2015 CX | Andamiro Entertainment
Notable Mention : Armed Resistance DLX | Universal Space
Category Two : Videmption Arcade Games
Gold Medal Award : Fishbowl Frenzy | Team Play, Inc
Silver Medal Award : Kung Fu Panda : Dojo Mojo | Innovative Concepts In Entertainment
Bronze Medal Award : Flying Tickets Arcade | Adrenaline Amusements
Notable Mention : Shooting Mania Arcade | LAI Games
Category Three : Redemption Arcade Games
Gold Medal Award : Panning For Gold Arcade | Universal Space
Silver Medal Award : Zombie Snatcher | Toccata Gaming
Bronze Medal Award : SpinDrome | Benchmark Games
Notable Mention : Gold Fishin' Arcade | Innovative Concepts In Entertainment
Category Four : Motion Simulators / Interactive Rides -
Gold Medal Award : Valkyrie Interactive Motion Theater | Simuline
Silver Medal Award : SuperNova XD Cinema Motion Ride | DOF Robotics
To view exclusive live-action game video clips, game pictures, game dimensions, game prices and obtain more information on all 2015 BOSA Awards Arcade Machine Winners, please visit : http://www.bmigaming.com/bosa
BOSA Awards | Presenter Backgrounds -
BMIGaming.com / BMI Worldwide | The world's largest online distributor of amusements, arcade and redemption games, motion simulators, kiddie rides, sports, music and vending equipment. Offers customers in over 100 countries amusement products from over 85 global manufacturers, and specializes in Arcade, FEC (Family Entertainment Center) and LBE (Location-Based Entertainment) consulting, site feasibility, design, theme, purchasing and installation services.
Headquartered in Boca Raton, FL, BMI Worldwide (parent of BMIGaming.com) has regional offices in Salt Lake City, Utah and Myrtle Beach, South Carolina, global sales offices in Bogota, Colombia, Cape Town, South Africa and Brisbane, Australia, with additional offices to open in Europe and Asia in Q4 / 2015.
The Stinger Report / KWP Limited | Based in London, The Stinger Report has been commenting on new entertainment trends and amusement technologies for over 20 years, and sister firm KWP Limited provides entertainment industry consultancy to large clients around the world. KWP Limited is also the founder of the not-for profit DNA Association, which focuses exclusively on the Digital Out-of Home Interactive Entertainment (DOE) sector for its members worldwide.